Tennessee House Speaker Kent Williams issued a response to the announcement that the state's Republican Party Chair has expelled from the party. Williams has maintained he is a Republican. He remains Speaker of the House, a position the Republican Party has not controlled for over 140 years until this past November. But now, no longer, by their own hand.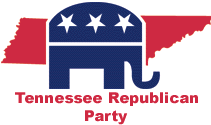 Speaker Williams' response to the TNGOP's stripping him of his Republican bonafides [1]:
"Robin Smith has determined that I am not a Robin Smith Republican—that is a Republican in her mold.

"I have hoped for some time that my party would work to build a bigger tent, a more inclusive tent. My hopes may have been in vain. The tent Robin Smith wants is a small tent. A narrow-minded tent. A tent with no room for alternative ideas.

"No matter what type tent she wants for the State Republican Party it is clearly not the tent of the Carter County Republican Party. I remain a Carter County Republican with the same principles that brought me to the General Assembly in the 2006 elections.

"I own a small business and as reported in the Tennessean on this past Sunday I have a 100% voting record with the National Federation of Independent Businesses. I am a supporter of Second Amendment Rights to bear arms. I am a supporter of SJR 127, the anti-abortion constitutional amendment. I do not want Government involved in all aspects of our citizens' lives.

"I believe all members of the General Assembly should be treated with the dignity and respect that they deserve. I believe all legislation should receive a fair hearing. I believe we have a lot of capable and smart people in the House from both parties. In this time of crisis we need to utilize all of this talent and harness everyone who has the desire and ability to be a leader.

"Apparently, these are not the traits of a Robin Smith Republican. She has made her decision. So be it.

"Now let us move past this distraction and get to the real work at hand. This is a challenging time in our history. The people of Tennessee expect and deserve our very best as we move forward to address the major challenges before us.

"Balancing the budget while still funding those items that are essential to keeping our state progressing will be a difficult task, but it is one that the General Assembly is up to if we join hands and work toward the common goal of what is best for the people of our state. We have a lot of work to do. We have to put our distractions behind us, join hands and work together.

"Let's move forward.

"Together."
Reaction to Williams statement and the party's action was swift in coming. Kleinheiner at 'Post Politics' on NashvillePost.com had this response:
"Wow. The TNGOP has put Kent Williams right where he wants to be [2] as he looks to maintain his House seat in 2010.
This statement is not just a defense of his action and his leadership but an indictment of the TNGOP party structure. Yes, Robin Smith and Bill Hobbs may have presided over the taking of the state house but they still have their detractors. Their Republicanism is a new Tennessee Republicanism, an ideological Republicanism.
It is an old style movement conservatism that owes more to Newt Gingrich and Pat Robertson than Howard Baker and Lamar Alexander. Those in the hills of East Tennessee have little use for the ideological and the religious right and, hailing from the birthplace of Tennessee Republicanism they do not take kindly to those who wish to tell them what Republicanism is.
Kent Williams has cast himself as a strong, independent fierce Republican advocate for his district [2] — just as we assumed he would [3].
Robin Smith may have taken away Williams' ballot access but the actions of the TNGOP today have helped Kent Williams fashion a narrative that will be very difficult to counter in Carter County in 2010."
When will the business of the people of Tennessee become the top priority of the state's Republican Party, or do they even remember 'the people?' General Motors lays off 10,000. Wal-Mart lays off 800, the state is expected to fall $1 billion dollars short of needed revenue and the Tennessee GOP expels a moderate voice seeking to expand the party tent, broaden its appeal. Anyone else see something wrong with this picture?