The  Clarksville Community Concert Association will present  Trio Verlaine in concert on Friday, March 6 at 7:30 p.m.   in conjunction with the Mid-South Flute Festival being held at Austin Peay State University.
Trio Verlaine will perform a classical concert with flute, harp and viola on Friday, March 6,  at 7:30 p.m.  Trio Verlaine will perform a classical concert with flute, harp and viola.
The members of Trio Verlaine are drawn together by friendship and a strong desire to further this unusual instrumental combination first dreamed of by Debussy. Members are Heidi Krutzen, principal harp CBC Radio Orchestra and Vancouver Opera, David Harding, professor of viola and chamber music, UBC, and Lorna McGhee, former co-principal flute BBC Symphony Orchestra, London. «Read the rest of this article»
The text of U.S. Attorney General Eric H. Holder Jr. is presented as part of Black History Month.
Every year, in February, we attempt to recognize and to appreciate black history. It is a worthwhile endeavor for the contributions of African Americans to this great nation are numerous and significant. Even as we fight a war against terrorism, deal with the reality of electing an African American as our President for the first time and deal with the other significant issues of the day, the need to confront our racial past, and our racial present, and to understand the history of African people in this country, endures. One cannot truly understand America without understanding the historical experience of black people in this nation. Simply put, to get to the heart of this country one must examine its racial soul. «Read the rest of this article»
Members of Austin Peay State University's student newspaper staff earned recognition at the 22nd annual Southeast Journalism Conference (SEJC), held Feb. 12-14 at Belmont University in Nashville.
Three staff members of The All State accepted accolades at the conference. For work submitted prior to the conference, Managing Editor Patrick Armstrong, of Lebanon, earned honorable mention awards in the Best Newspaper Layout Designer and Best Press Photographer categories. Photo Editor Lois Jones, of Clarksville, won third place in the Best Press Photographer category. «Read the rest of this article»
Dave Ramsey has an adage, "People don't plan to fail, they fail to plan."
The ongoing saga of the city of Clarksville efforts to construct a marina on the Cumberland River at Fairgrounds Park continues to astound. Having secured funds well in excess of the specified required amount, laying an enormous debt on the taxpayers in the process, the city is apparently stumbling along in baby steps to compile the paperwork needed to gain the federal and state permits to allow the construction to take place at all. All the while the public is being told these are great strides in advancing the dream of a marina into a reality.
Recently, the City of Clarksville announced that excavation bids would be sought by May, 2009, for some excavation to begin at the fairgrounds in July of this year, with Marina construction to be completed by October, 2010.
On February 18, 2009, CO Author Turner McCullough Jr. received the following communication from U.S. Army Corps of Engineers Conservation Biologist Tadd Potter in response to six questions asked of the USACOE: «Read the rest of this article»
Sgt. Maurice Hobbs of the Tennessee Highway Patrol was recognized by Clarksville Police Chief Al Ansley at Police Headquarters for his actions in apprehending a suspect who was charged with committing two robberies within hours of each other.
On February 4,  at approximately 3:06 a.m, Sgt. Hobbs was passing by the Mapco Express store located at 640 Providence Blvd. As Sgt. Hobbs passed by the store, he noticed a person standing at the register with a hooded jacket pulled over their head.  Sgt. Hobbs then turned his vehicle around and as he pulled onto the lot of the Mapco, the suspect quickly exited the store and the clerk ran out of the store telling Sgt.  Hobbs that she had just been robbed. «Read the rest of this article»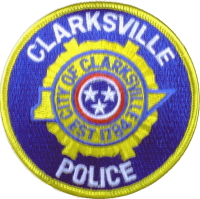 Two men face burglary charges for theft of copper wiring. On February 16, Angelo Javon Byars (B/M), 38, of 572 Nelson Rd, Guthrie, KY,  was charged with burglary with bond of $5,000 and Jonathan Lee Wiiliams (B/M),  25, of  503 Edlin St., Guthrie, KY, was charged with burglary and had a theft warrant  served when he was taken into custody and has a bond of $10,000. «Read the rest of this article»
Saturday was Valentine's Day and many a panicked male dashed around town looking for some way to demonstrate his affection for his lady love. If they had thought of an art exhibit opening, they would have been home on Easy Street … especially if the art opening was the new photography exhibit featuring Alan Goldstein at Silke's Old World Bakery and Cafe. For the lucky souls who planned for this event, the evening was magical.
Sweethearts of all stripes gathered at Silke's to marvel and view the latest additions to the walls of artwork on display at this wonderful little hide-a-way jewel in Clarksville. «Read the rest of this article»