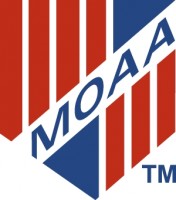 The Military Officers Association of America (MOAA) is a dynamic lobbyist for all military retirees. Members include veterans — retired Marines, sailors, Air Force and Coast Guard personnel.MOAA is a non-profit , veteran's association dedicated to maintaining a strong national defense and to preserving the earned entitlements of members of the uniformed services and their families.  It is vigilant in safeguarding and extending the benefits of all veterans. When MOAA speaks to Congress, they listen, and take immediate action.
Today, with a new administration, MOAA is busy developing and implementing strategies for legislation that benefits veterans ,their families  and  survivors, in recognition of the sacrifices made.
MOAA's goal in 2009 is to be an effective organizational voice shaping relevant government policy and promoting earned benefits.  Under their guardianship, there will be no retreat or reduction of retired veterans benefits.
To effectively assist veterans, the MOAA has established the following goals for 2009:
Sustain defense budget to meet personnel and weapons needs
Sustain military manpower increase
Gain additional "wounded warrior" fixes
Resist shifting health costs to beneficiaries
Reverse Medicare-TriCare payment cuts
Repeal SBP/DIC offset
Work for full concurrent receipt
Restore military pay comparability
Secure Guard and Reserve retirement and health upgrades
Improve military family support
Later in their publication, another goal is added. It's one that captured my attention and will improve survivor benefits in a small but important way in a time of grief. The MOAA is legislating for final retired pay for survivors. They are suggesting that Congress enact legislation that:
"…authorizing payment of a full month of retired pay for a service member's death. Under current law, a prorated portion is summarily recouped from the survivor. MOAA believes it's wrong to impose such unexpected and insensitive financial penalties on survivors at what is already the most traumatic time of their lives."
As the policy stands, if I die on say, July 10, my survivors would receive only a ten day pro-rated portion of my pension. Under the new plan, my survivors would receive the pension for the whole month.
Just a reminder: in the military systems, pensions are suspended upon the demise of the retired veteran.
Go to bed tonight grateful for the MOAA's vigilance.