A Clarksville man is being held on $100,000 bond on a charge of Aggravated Robbery  in connection with a robbery of  on Riverside Drive.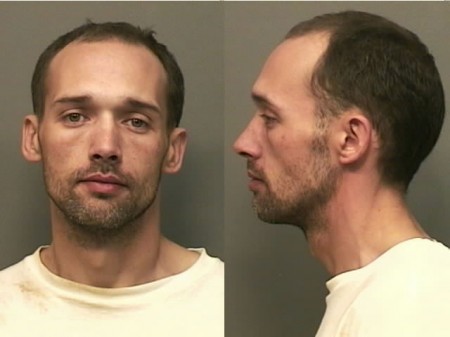 On March 9,  officers responded to an armed robbery of Regions Bank on Riverside Drive.  The suspect, later identified as Ronald William Bartlett Jr. (W/M), 33, listed as homeless, entered the bank, walked up to the teller, and passed her a note demanding money.  The teller said that Bartlett made a motion toward his pocket, making the teller believe that he was armed.  Bartlett took the money and fled the bank with an undisclosed amount of money.  A witness followed Bartlett and saw him get into a car parked at a nearby business. 
The witness relayed the vehicle and tag description to officers on the scene who had the information disseminated over the Police radio.   The vehicle was initially spotted by Deputy Austion and a city officer on the parking lot of the Quick Stop in the Greenwood Avenue area.  Bartlett was refueling his 1993 Mercury at the time.  When officers attempted to approach Bartlett, he entered his vehicle and fled.  Bartlett lead several, Clarksville, Montgomery County, and Cheatham County officers on a vehicle chase which finally ended in Cheatham county on Chapmansboro Road, when Bartlett's vehicle went off the road into the dirt. Bartlett was taken in custody by Clarksville officers without incident or injury.
Bartlett admitted to taking the money from the bank.  All the bank's money was recovered and returned except for the money Bartlett used to refuel his vehicle.
Ronald William Bartlett Jr. has a long history of criminal activity.