Austin Peay State University today celebrated the grand opening of the new Austin Peay Center @ Fort Campbell facility with a brief ceremony.
A crowd of state and local dignitaries, members of the Fort Campbell, Ky., command group and APSU officials were on hand for the event. Dr. Sherry Hoppe, former APSU president, and Dr. Gerald Beavers, former executive director of the Fort Campbell Center, were among those attending. Both were involved in the initial planning stage of the building project.
The new classroom/office building is across the street from the SSG Glenn H. English Jr. Army Education Center, Bastogne Avenue on post. Until now, APSU has been hosting classses in an old and decaying building, making do with a structure that was obsolete and inefficient for its current use.
The building design includes oversized windows and a network of skylights designed to bring maximum natural light into the structure. Offices located in the interior core of the structure benefit from additional natural light through skylights, and the front walls and doorways on each office are glass, picking up additional lighting from the well-lit classrooms on the outer walls.
The classrooms are equipped with touch-sensitive "smartboards" — a 21st century twist on the blackboards of yesteryear. The touch-sensitive display connects to your computer and digital projector to show your computer image. You can then control computer applications directly from the display, write notes in digital ink and save your work to share later.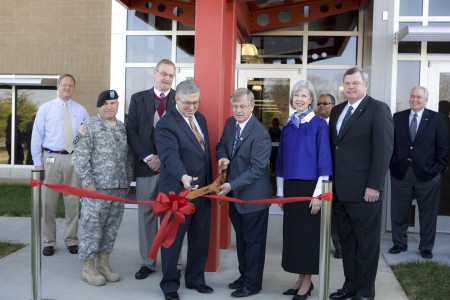 The project, approved by the State Building Commission in 2007, is unique in that, as far as can be determined, it marks the only time in history a state university has been granted permission to build an educational facility on federal property through a 25-year, long-term land lease with the U.S. Army, with an option to renew for an additional 25 years.
At the English Education Center, APSU—which has the highest enrollment of the four institutions offering classes on post—had filled to capacity all of its available classroom seats. APSU will use the same number of rooms in the English Education Center, but the new facility provides six additional classrooms, laboratory space and faculty offices.
Architects with Rufus Johnson Associates designed the new $3.4 million building. The University paid for the construction with bonds from the Tennessee State School Bond Authority. A&K Construction, Paducah, Ky., built the facility.