Clarksville, TN – Dr. Robert T. Cochran Jr. will be reading and signing copies of his new book, Curing Chronic Pain, on Saturday, April 4th at 3:00pm at Borders on Wilma Rudolph Boulevard in Clarksville.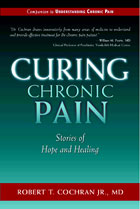 "I believe you will marvel, as I constantly do now, at just how much a doctor can learn in four years." — Robert T. Cochran Jr., M.D.
In Understanding Chronic Pain, Cochran's first book, he spoke with patients about their experience with unrelenting pain, developing a "thesis that chronic pain was a form of mental illness, and that by understanding and treating the mental illness one could often cure chronic pain." Cochran saw links between chronic pain and issues such as childhood trauma, depression, substance abuse and bipolar disorder. «Read the rest of this article»
Sankofa Soldiers to tell of war's strife as seen from the eyes of African American soldiers and their families.
Life at Fort Donelson for African American soldiers and their families will come alive Saturday April 4 in a historic retelling of this part of history. In a one day staging, offered in two presentations, actors will present a dramatic  presentation of the history and lives of Tennessee's Civil War participants. The event is free and open to the public. «Read the rest of this article»