The photography exhibit by Jim Hancock consists of 24 visually striking images from cities dotting the Mediterranean coastline. The images give us glimpses of Italian villas, Corsican harbors, Spanish Markets, among many others. You can view his work at Silke's Old World Breads during the next month between 7:30 a.m.-6 p.m. Mondays-Saturdays. While you are there, be sure to try their food, especially their excellent gourmet pizza!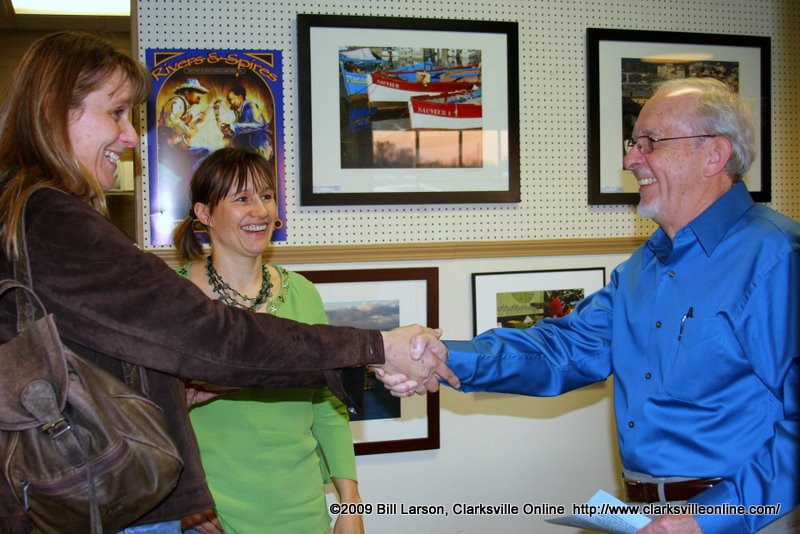 Information about the Exhibit
The photographs in "Mediterranean Reflections" were taken in November, 2008, during a 15 day Trans-Atlantic Cruise on the Norwegian "Gem."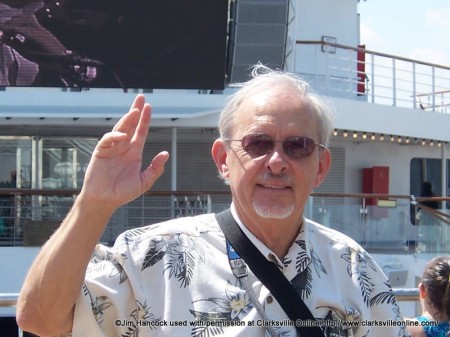 Arrival in Barcelona, Spain
Nancy and I flew from New York to Barcelona to board the NCL "Gem" for eight days of Mediterranean ports, continuing in a crossing through the Strait of Gibraltar to New York harbor. During the entire trip, we were blessed with exceptionally pleasant weather—temperate and clear.
Arriving for an extra day in Barcelona, we admired and photographed the interesting people and places of the Old Town and Gothic Quarter. Scenes along Las Ramblas revealed dramatic architecture and colorful scenes everywhere.
Villefranche, France
Boarding the "Gem," an entertainment in itself, we sailed for Villefranche, France. The delightfully quaint French Riviera town offered an old hillside fort, narrow streets connecting cobblestoned passages, and a long hillside stairway overlooking the town harbor—a plethora of photo opportunities.
Florence, Italy
Our next port of call took us to Florence, Italy. This birthplace of the Italian Renaissance overlooks and bridges the peaceful Arno River, offered fine camera opportunities. Classic art and architecture everywhere drew the photographer's eye in all directions. Having been to Florence before, we walked different streets and found new venues for the camera on this visit. One outstanding artwork was a bas relief from the 1500s with an unusual pietà-like sculpture of Christ.
Ostia Antica, Italy
The next port gave access to Ostia Antica, the original port of Ancient Rome. Here the culturally advanced remnants from the 4th century B.C. have been excavated to reveal the art and architecture of Italian craftsmen and merchants. Wonderful mosaic floors and colorful wall frescoes were protected through the ages by layers of river silt. An amazing amount of Ancient Rome remains in Ostia Antica—an amphitheater, opulent homes, temples, public bathhouses, shops and more. Fine stylized stone theatrical masks are in excellent condition and provide an up-close view of this staple of Roman theater.
Ajaccio, Corsica
Sailing to Ajaccio, Corsica, the birthplace of Napoleon, additional quaint harbor scenes and beautiful coastlines greeted us, again offering ample photo fare. Modern island life dappled with reflections of the old offered a visual feast in a much-too-short stay.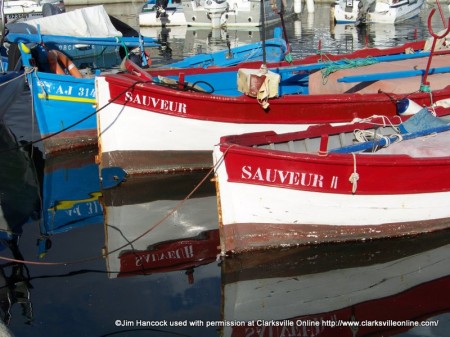 Malaga, Spain
Next, beautiful Malaga, Spain, led us to Granada for a day-long visit to the Alhambra, the oldest example of Moorish artistic design and intricate architectural detail remaining in Europe. The Alhambra offered endless photo angles, sunlit detail with deep shadows, and awesome reflections in sky-colored pools. The design of the Alhambra represents the Islamic perception of paradise flowing with beautiful streams as described in the Koran. The Medieval reflecting pool in the Courtyard of the Myrtles was the prototype for the famous pool at India's Taj Mahal.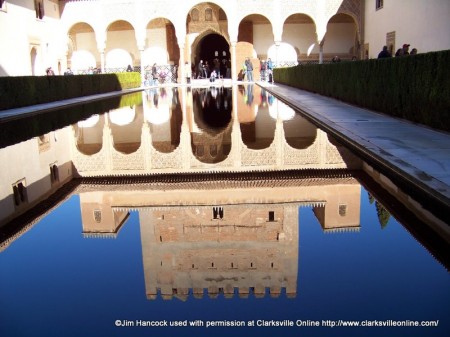 Crossing the Atlantic Ocean
Leaving our final Mediterranean port for six days on the Atlantic, our thoughts turned to Christopher Columbus, whose statue we had seen in Granada. Like Columbus, we sailed through the strait of Gibraltar across a beautiful and seemingly endless sea and sky to the "New World," our homeland. A spectacular dawn broke as we sailed under the suspension bridge into New York Harbor. The golden sun highlighted the signature Statue of Liberty as we sailed close by, while the modern glass buildings of Manhattan blazed reflections of the rising sun, welcoming us home to America.
Artist Statement
I enjoy Life. An Important part of that enjoyment is photographing local scenes and landmarks in various seasons of chance, unique lighting, and points of view. In addition, traveling with my wife Nancy allows many opportunities for photographing new and interesting places. As a photographer and a member of groups such as ARTZ and Friends of Photography, I find pleasure and learn from the friendly associations, critiques, and exhibits organized by these groups.
Both Juried and non-juried venues provide opportunities for exhibiting my work. I enjoy hearing people's responses to specific pieces. I was pleased to have photographs accepted for two 2009 calendars, The Leaf-Chronicle's "Capture Clarksville" and the Arts and Heritage Council's Desk Calendar." The calendars feature two of my Dunbar Cave Photographs depicting spring and fall, respectively.
Donating pieces of my work to local fundraising events such as Flying High, the Roxy Regional Theatre, and the Multiple Sclerosis Society gives me special pleasure. I appreciate the positive Responses to these photographs and the rewarding proceeds they bring to help these significant organizations within our community.
Pieces
| | | | |
| --- | --- | --- | --- |
| Title | Location | Type | Price |
| Ancient Floor Mosaic | Ostia Antica, Italy | Framed 11×14 | $55 |
| Angel Tears | Barcelona, Spain | Framed 16×20 | $120 |
| Atlantic Sunrise | Atlantic Ocean | Framed 16×20 | $100 |
| Blooming on the Rocks | Ajaccio, Corsica | Framed 16×20 | $100 |
| Colorful Wall Fresco | Ostia Antica, Italy | Framed 11×14 | $55 |
| Compassion | Florence, Italy | Framed 22×28 | $175 |
| Courtyard of the Myrtles | Ganada, Spain | Framed 22×28 | $160 |
| Fantastic Coast | Ajaccio, Corsica | Framed 16×20 | $100 |
| Golden Stairway | Granada, Spain | Framed 16×20 | $100 |
| Healthy Harvest | Barcelona, Spain | Framed 22×28 | $160 |
| Mediterranean Harbor | Ajaccio, Corsica | Framed 22×28 | $160 |
| Old Fort | Villefranche, France | Framed 16×20 | $100 |
| Old Town Passage | Villefranche, France | Framed 22×28 | $160 |
| Over the Arno | Florence, Italy | Framed 22×28 | $160 |
| Port Tino Rossi | Ajaccio, Corsica | Framed 22×28 | $160 |
| Reflection of Grace | Ajaccio, Corsica | Framed 22×28 | $160 |
| Riviera Sunrise | Malaga, Spain | Framed 11×14 | $100 |
| Roman Stone Mask | Ostia Antica, Italy | Framed 12×12 | $45 |
| Sea Feast | Barcelona, Spain | Framed 16×20 | $100 |
| The Gothic Quarter | Barcelona, Spain | Framed 16×20 | $100 |
| Three Wooden Boats | Ajaccio, Corsica | Framed 22×28 | $160 |
| Through the Ponte Vecchio | Florence, Italy | Framed 22×28 | $160 |
| Up to Old Town | Villefranche, France | Framed 16×20 | $100 |
Photo Gallery