This years Rivers and Spires exceeded all expectations. The execution of the festival was flawless. The City, County, the Clarksville-Montgomery County Convention & Visitors Bureau along with the organizers, sponsors, and volunteers all deserve a round of applause, and our thanks!
The third day of Rivers and Spires dawned clear and sunny. As the day rolled by, the clouds rolled in. Luckily the rain held off for most of the evening as was expected. However just before the 9:00 p.m. John Michael Montgomery concert festival goers suffered through a sudden downpour.
The Clarksville Online crew arrived between 10 a.m. and 11 a.m., and promptly divided our efforts. Our videographer Mark Haynes went off to record the acts at the Strawberry Alley Stage with his high definition video camera. Reporter Turner McCullough Jr. disappeared in the direction of the International Streetfest, while I meandered throughout capturing images of people enjoying the festivities.
Around 11:30 we gathered together to watch the MCES Honor Choir perform. Their performance was an auditory treat. It was clear that the students had put a lot of work towards preparing for this performance, and their efforts paid off.

Mark Haynes remained at the Strawberry Alley stage to record performances until roughly 2:30pm. At which point he left to capture videos of other areas of the festival.
In the mean time I covered the action on Franklin Street, including a visit to Paige King at Hodgepodge. She reported doing good business during the three day run of Rivers and Spires. Leaving Hodgepodge my next destination was to check in with Linda Cain at Visions Metaphysical Boutique. She also reported doing exceptional business. They were busy doing Tarot Readings for people passing by.
Turner McCullough Jr headed towards the International Streetfest with the intention of catching Flutist JJ Kent's show. I followed shortly thereafter. In spite of becoming distracted by various photographic opportunities I arrived just in time.
I have seen JJ Kent perform during last years IOC International Festival, the 2008 Rivers and Spires, and at the NCC Powwow. I have enjoyed his performance every single time. His flute playing is very ethereal. Today he played as he told the parable of the thin Chief and the fat Chief.
We returned to Strawberry Alley to catch the outstanding Northeast High School Exit One Show Choir perform. Their show consisted dance acts and show tunes from throughout the history of Broadway. They are leaving soon to perform in Branson, Missouri. If you get the chance to catch one of their shows, the I highly recommend you do so. This stunning choir never ceases to amaze!
Once their show was done, I headed towards the International Streetfest. I still wanted to check out the Jezzebellies Belly Dance Troupe, the Baize School of Karate demonstration, and to see the ever colorful Ballet Folklorico Viva Panama dancers perform at the Courthouse Stage.
The Jezzebellies are also frequent performers at area festivals. Their dances and the sound of the bells they wear help to entice the audience, male or female. The Baize students were in fine form. After capturing some photographs of their demonstration I turned my attention to the Folklorico dancers. Some of the best pictures I have taken have been of their performances. They are also one of the performers I always look forward to seeing.
Reporter Turner McCullough Jr had headed to the Jazz'N Wine area, so I followed him there. Located next to Trinity Episcopal Church, 16 wineries had gathered to offer samples of their best vintages. Turner was quite taken with several Beachaven Vintages including their Riesling. As he spent some time in Germany, this was not surprising.
Citrus and honey aromas lead into green apple, lemon, and nectarine flavors. Off-dry like a German Rhine wine. Rich and Flavorful! Excellent with spicy cuisine!
The Beachaven Riesling has won several awards, including the Double Gold Medal at the Florida State Fair International this year. It also won the Bronze Medal at the Indy International in 2008.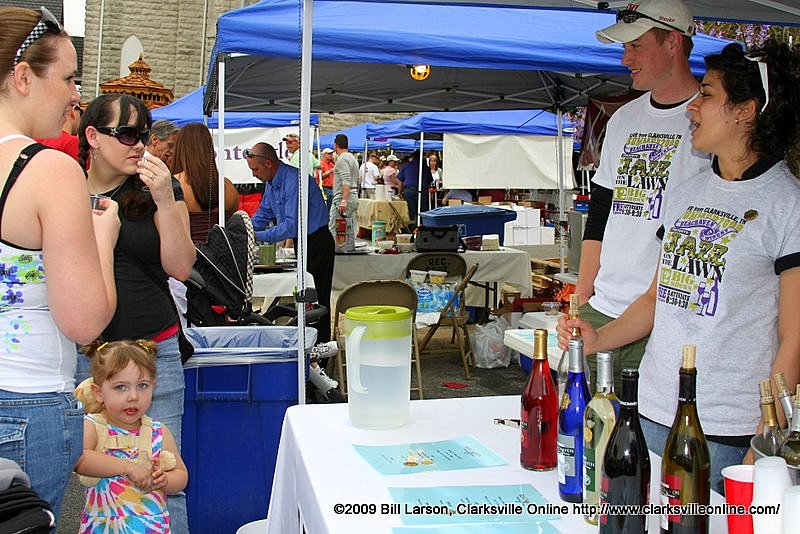 Since I seldom drink, I did not expect to do much more than take photographs while I was at the Jazz'N Wine area. Instead I found myself trying a bit of some great Pork Loin cooked by the Chef mart and HGTV Hosts.
I was then treated to some wonderful caviar sold by the Clarksville company, Legacy Caviar. Spokesman Christopher McConnell was very entertaining as he discussed the merits of their product. Their caviar is salty with a butter like accent flavor, I quite enjoyed the taste. The caviar topped delicious Sushi provided by Kohana Japanese Restaurant.
The band Rodeo Pony started playing and upon hearing their sirens call, I was lured in their direction.  This all woman band played heart stirring country music featuring two of my favorite instruments the Banjo and Fiddle. After taking a few moments to listen and snag a couple of photographs I headed out of the area.
Passing through the Teen Zone I headed to pay my first visit to the Third Street stage. The band Hometown was playing. They had a nice mix of young and old clustered around the stage area listening to their performance.
Heading back to Franklin Street I moved down towards the Public Square stage. It was approaching 6 p.m. By this time I had taken nearly 800 photos, and with my energy fading fast I realized that that I had gone as far as I could for one day, I would have to miss John Michael Montgomery's performance. So I tracked down Turner and we headed home for the evening.
Photo Gallery