The Friends of Dunbar Cave group undertook the job of putting an informational kiosk in the Dunbar Cave Visitor Center; a Kiosk that can show short films to Park visitors.
Friends President David Boen led the search for a push button information Kiosk that would be able to play short informative films. Mr. Boen looked at Kiosks in use at APSU, the State Museum at TPAC, a museum in Paducah,  and along with Sally Schiller and Debbie Boen, several parks in the Nashville area. He also researched what would be needed to construct an in-wall Kiosk. He then conferred with David Britton about getting started on the task.
David Boen took a day off work and with David Britton prepared a wall in the Visitor Center lobby for the new Kiosk. They received enthusiastic help from Park Ranger Adam Neblett, and Seasonal Interpreter Michael Fulbright.
The results are wonderful; when visitors enter the lobby the new Kiosk is there to show the newly released Clean Cut Productions film along with a few other informative films.  This is one effort of several underway aimed at preserving and protecting the the beauty and integrety of the State Natural Area. «Read the rest of this article»
Election Laws, economic development and the budget are among wide variety of issues debated on Capitol Hill this week

(NASHVILLE, TN), April 16, 2009 — Election laws, economic development, the budget, telecommunications, and violent crime were among a wide variety of issues headlining debate on Capitol Hill this week. However, State Senators also took time on Monday to remember the victims of last week's tornadoes in Rutherford, Sumner, and Benton Counties and commended emergency personnel for their handling of the disaster.
The worst damage was in Rutherford County where a deadly EF-4 tornado hit Murfreesboro packing winds of 166 mph to 200 mph, killing a mother and her baby. The tornado, which was a half-mile wide and ran a 28-mile path, set a record for the longest EF-4 tornado in history. Seven people were critically injured and about 818 homes were damaged, with 111 of those homes completely destroyed. The cost to businesses and residents has preliminarily been estimated at $40.2 million.
«Read the rest of this article»

The House Democrat Review is a weekly feature that gives Tennesseans an in-depth look at what our Democratic state legislators have been working on this week, and a glimpse into what's planned for the coming week at our state house.
House Democrats celebrate agriculture day on the Hill,
Event designed to focus attention on the importance of agriculture to Tennessee's economy
On Tuesday, State Representative Joe Pitts (D-Clarksville), House Agriculture Committee Chairman Stratton Bone (D-Lebanon), and c Ken Givens celebrated Agriculture Day on the Hill.
"Agriculture continues to be such an important part of ours state's economy," said Pitts. "As we continue the move towards more green jobs in Tennessee, I believe agriculture will play a significant role."
Recent statistics released by the Tennessee Department of Agriculture show that over $60 billion (about 18%) of the state's economy is generated by agriculture and forestry. Agriculture alone accounts for over 210,000 Tennessee jobs, with over 11.4 million Tennessee acres currently being used as farmland. «Read the rest of this article»
Austin Peay State University graduate student in biology Maryam Farsian represented the University during Tennessee Graduate Education Week April 1, 2009.
Farsian's research project "Optimization of an Enzyme Immunoassay for the Detection of Gonadotropin-releasing Hormone," presented her research as a poster presentation. Farsian was one of many students from across the state.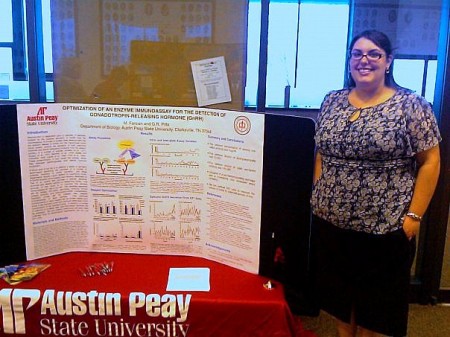 Dr. Gilbert Pitts, assistant professor of biology, served as her major research adviser and participated in the presentation.
Three intersection red light cameras will soon be operational, much to the joy of some and the chagrin of others. The intersections for the Red Light cameras will be clearly marked. The intersections with the red light cameras will be: 1) Wilma Rudolph/Trenton Rd; 2) Wilma Rudolph/I-24; and 3) Ft Campbell Blvd/Gate 3. Barring any inclement weather, the cameras should be operational by May 1, 2009.
When the first red light camera is activated, there will be a 30 day warning period for drivers. What does that mean? It means the cameras will be functional and red light violators will be identified and issued warning Notice of Violation (similar to a civil summons). This will allow drivers to have a grace period for getting used to operation of the cameras and allows the Police Department time to ensure equipment and procedures are in place and working correctly. «Read the rest of this article»
The Clarksville Greyhounds Youth Football League is forming teams for the 2009 football season. The League has  four age groups: 7-8, 9-10, 11-12 and 13-14. There will also be cheerleaders for each age group.
The Clarksville Greyhounds are a member of the Tennessee Youth Football Alliance. They are traveling teams and will play teams from various areas throughout Middle Tennessee.
The TYFA is a very competitive league and have had players and cheerleaders recognized nationally for academics and athletics. This program includes opportunities to compete in regional and national competitions.
If you are interested in  administrating, coaching, or being a cheerleader supervisor, please send an email to or call 931-472-6101 for more information.
Update: There will be an information booth at Governor's Square Mall on April 25th from 10:00 am to 3:00 pm.