The park Interpreter went on a tromp on Monday, April 20, a nice sunny but fairly cool day. (A tromp is when you get off the trail and roam around, which visitors cannot do – (sorry, only park employees are allowed to do it!). Here are her observations.
Many flowers are blooming – more and more every year. The best right now are the Fire Pink, bright red splashes of color on the hillside above the lake; Dwarf Crested Iris, the small blue and yellow flowers that grow in patches on the hillside, patches that are getting larger every year; and the Violet Wood Sorrel, lavender trumpets with a yellow throat and leaves which look like shamrocks. This is a great year for the wood sorrel, it seems to be everywhere. We also have shooting star, larkspur, and spring beauty, among others.
Of course, things change every day – I swear that there were flowers out in the afternoon that were not  there in the morning. Most of our flowers are more plentiful every year (as long as no one picks them) – some have disappeared, either due to habitat change or human destruction, but those are the minority.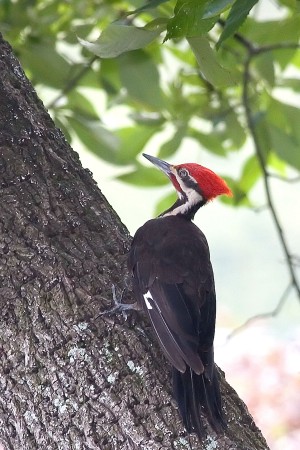 The birds are also coming in, back from winter elsewhere, either here for the summer or just passing through. Yesterday I saw a Yellow-throated Warbler, a Black and White Warbler, a Black-throated Green Warbler, and a Yellow-throated Vireo, all for the first time this year. I also had a wonderful sight of a Pileated Woodpecker, which is here all the time, but the sun caught its crest just right and it glowed a bright red.
Many of the trees already have leaves, but the beeches are just before leafing out. They have golden brown buds that are 1-1/2 to 2 inches long – hard to believe that leaves are packed into those buds. I was glad to find some beeches (they are the ones with nice smooth bark) that WEREN'T carved with initials or names – far from where people pass on the trail.
I also did my good deed(s) for the day – freed four Jack-in-the-Pulpits – they (and other flowers) sometimes come up through a tear in last year's leaves on the forest floor and are kept from opening up by the leaves tightly packed around them – I pulled the leaves off from around them so that they could open up and grow freely. I like to think they were grateful.
One good thing about tromping is you discover things you did not know were there – we had thought that most of our Lycopodium (a primitive plant, evergreen and low-growing, not found in many places, which was once plentiful on the park), was killed by the extreme cold and then a drought two years ago, but I came upon a large patch growing in the middle of the woods.
We hope you will come out and enjoy the life, beauty and peace of the Dunbar Cave State Natural Area.
Cave Tours are available Saturday and Sunday at 1pm and 3pm. Cost is 5$ per person. Each individual must bring their own flashlight. Call for reservations (At least one week in advance, Mon-Fri 8am-4:30pm) 931-648-5526