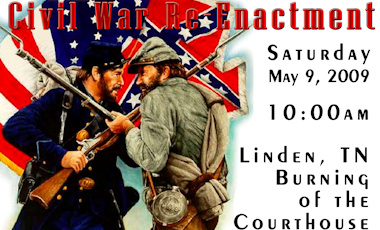 Civil War re-enactors will invade Linden, Tennessee this Saturday for the 146th anniversary of the burning of the county court house. History will come alive as the forces of the Blue and the Gray re-stage this historic moment of Perry County history.
May 9th will be a day filled with activity in Linden, Tennessee, the county seat of Perry County, as Civil War re-enactors invade to commemorate the anniversary of the burning of the County Courthouse.  The actual date it was burned was May 12, 1863, 146 years ago. The original county courthouse for Perry County was a log cabin, which was replaced by a wooden frame, 2-story structure in 1849-50.  It is this is the building which was burned by Union troops on that fateful day.
Saturday will be packed with exciting events for everyone.  There will be a cannon exhibit and live demonstration at the field across from Sonic, next to the new School Board building on Hwy. 13.  This will last about a half hour, then at 10:45 County Mayor John Carroll will read a proclamation from the courthouse steps. Re-enactment ladies, in period dress, will enjoy a tea at the Commodore Hotel, hosted by the Chamber of Commerce, and at noon the ladies will perform a fashion show on the square for everyone's enjoyment. There will be a moderator talking about the styles and occasions the various types of dresses would be worn.
The actual courthouse skirmish will occur at 2:00 p.m. The Union troops will enter the town from the west, much as it happened in the Civil War.  It will last about 20-30 minutes, but as one re-enactor told me, "I think we'll be ready for them this time!"  Just in case, the volunteer fire departments will be available!
The public is encouraged to come and enjoy this living, learning history presentation. Come early and talk to the re-enactors. Some of them will be camping out the night before, and all of them are eager to tell you about life in this period of time.  A medical tent will be set up, with actual medical instruments and supplies on display.
Food vending will be provided by the Perry County Rescue Squad, and there will be some vendors selling souvenirs of that time period.
Driving Directions
From Clarksville's Veterans Plaza to Linden's County Courthouse follows.
Distance: 85.25 mi Time: 1 hr 59 mins
Start at 350 PAGEANT LN, CLARKSVILLE going toward CROSSLAND AVE – go 0.10.2 mi/km
Turn Right on CROSSLAND AVE – go 1.32.2 mi/km
Turn Left on S RIVERSIDE DR(US-41A-BYP) – go 0.81.3 mi/km
Bear Right on CUMBERLAND DR(TN-48) – go 2.13.3 mi/km
Continue to follow TN-48 – go 6.210.0 mi/km
Bear Right on TN-13 – go 37.560.3 mi/km
Turn Right on N CHURCH ST(TN-13)
Turn Left on TN-13 – go 37.259.8 mi/km
Turn Left on E MAIN ST(US-412) – go < 0.10.1 mi/km
Arrive at 121 E MAIN ST, LINDEN, on the Left