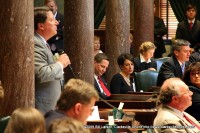 Nashville – The Coach Willard Ross Act of 2009, sponsored by Senator Tim Barnes and Rep. Joe Pitts, has passed in the State Senate and House. Northwest High School's beloved basketball coach was killed in 2007 by a stray bullet, fired by a man with a criminal record, who was prohibited from owning a gun.
The legislation makes it illegal for anyone to buy a gun when they are prohibited from owning one. It also makes it illegal to knowingly sell a gun to anyone who is prohibited from owning a firearm.
"This legislation has been in the works since the untimely death of Coach Ross, who was my little league baseball coach" Rep. Pitts said. "We introduced this legislation after a letter from his family who wanted to give our law enforcement officers another tool to help keep guns out of the hands of criminals."
Senator Barnes said:
The death of Coach Ross was shocking to our community. Coach Ross was a great man, whose death was tragic and untimely.

The passage of this legislation, the Coach Willard Ross Act of 2009, is a way in which we can honor his memory and in some measure deter this type of violence.
The bill has been passed in both the Senate and the House and will go to the governor.
About Senator Tim Barnes
Senator Tim Barnes represents Montgomery, Cheatham and Houston counties. Contact his office at or (615) 741-2374 or 305 War Memorial Building, Nashville, TN 37243-0217.