Your eyes aren't playing tricks on you. That title is correct. At the Annual Paris Fish Fry, catfish do indeed swim ina sort of track meet! The entrants vary in size and temperament and some coaxing is attempted with varying degrees of success. It's all part of the diverse attractions associated with the annual world's largest fish fry. There is one side benefit for the racers- lose or win, they don't become part of the dinner plate in the festival's big dinning hall.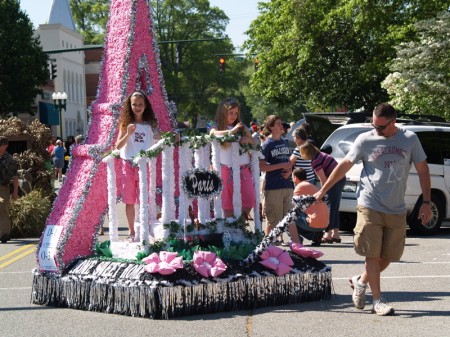 Day Three of the festival starts off with the 'Children's Parade' around Public Square. Floats, pull wagons, Big Wheels, clown pulls, Shetland ponies, marching young children groups, church child pre-school groups, and individual family entries all participate in this happy, noisy spectacle. Cameras click and family and friends cheer as their personal faves pass in review.
After the Children's Parade, everyone converges on the west side of the square to watch the heralded 'Catfish Races!' There are three main heats that make up the races. Before the actual races begin however, there is the hilarious spectacle of 'tall tales story-telling.' The sponsors of the race entrants vie for the honor for best story of either how their fish can be to considered for the race or how that particular catfish came by its name. Ladies and gentlemen, be forewarned, there's some seriously tall-tale telling going in this competition. A vivid imagination is definitely a prerequisite for this segment of the fabled catfish races. The winner of the best 'tall tale' gets a gift certificate to a local business and a plaque proclaiming their storytelling skills. Braggin' rights are included.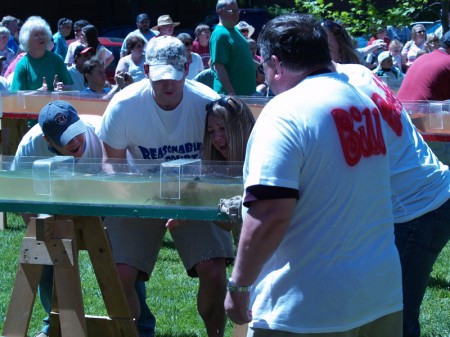 Anyone can enter the races simply by sponsoring a fish for a twenty-five dollar fee. You can appoint a stand-in or actually handle your own catfish. Several local businesses formed teams to cheer their fish, to varying degrees of success, but always great fun! A law firm, a Chinese restaurant, several elementary and middle school classes and a pizza shop all sponsored entries this year. There was one very special entrant. A very well fed but lean, healthy looking catfish, supposedly trained on a special blend of Java and kept in a specially rigged ice chest with extra oxygen enriched cooled water, proved a real showstopper! The supposedly java-laced water looked like regular water from where I stood but the catfish did move quite lively in his race trough.

After the opening preliminaries which saw some twenty entries vie for semi-finals status. the real elimination rounds got under way. The original twenty-four entries were trimmed down to ten semi-finalists. These contestants were further trimmed down to a final five contestants. And yes, that java-juiced behemoth made the count. In fact he was the ultimate finalist, winning the 2009 Catfish Races Championship for his sponsor. The sponsor won a commemorative trophy honoring his entry, a certificate declaring him grand champion, gift certificates to several restaurants and businesses, and having his name added to the rooster of Catfish Race Champions.
There is a striving side venture of souvenir caps, t-shirts and aprons for sale at the races to complete the festive atmosphere of the day. A great day's fun and all money raised goes to support the Henry County Literacy Program. Once the races are complete and prizes awarded, the crowds move to the carnival grounds to partake of the amusement rides, arts and crafts vendors hall and that world famous all-you-can-eat catfish dinner. This year there was also a rodeo show added to the line-up along with a mule pull.
The entire fish fry is a family-friendly affair. Young and old, everyone came to the carnival grounds, cruised around the arts and crafts bazar, many rode the rides and other attractions and everyone seemed to eventually go into the dinning hall and settle down at one of the many dinning tables with a heaping plate of good eats. The ten dollar ticket price is a bargain for the return. If you've never attended this fun-filled spectacle, do make plans to get here next year. And bring your hardiest appettite.
"Guten Appetit!!"
(Photos by Turner McCullough Jr. w/DiscoverParis.com)