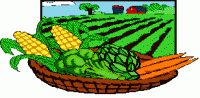 Would you like to sign up for the Garden of Hope CSA (Community Supported Agriculture) Program?  CSA boxes will cost $20/week for 12 weeks. You will receive a box full of fresh, seasonal vegetables throughout the growing season.  The CSA boxes will be available for pick-up on the farm [860 Hornbuckle Road] each Friday from 3:00 – 6:00 pm from July 3rd through September 18th.  Boxes can be paid for on-site weekly or full payment can be made in advance.
Your support will benefit Clarksville's F.U.E.L and Loaves and Fishes programs as well as provide fresh, home-grown veggies for your family.
The Garden of Hope is a local community outreach program sponsored in part by the City of Clarksville Office of Housing and Community Development, UT/TSU Cooperative Extension program in Montgomery County, other organizations and businesses. «Read the rest of this article»
The rock band Flight Case For Sushi is playing a live Concert at The Warehouse (20 McClure Street) Friday May 22nd starting at 10pm. Tickets are $12 in advance, $15 at the door. This event is open to people of any age.
Flight Case For Sushi is from Nashville Tennessee. They formed in the summer of 2008 and started recording a self-produced record in the fall. One year, 2,487 cups of coffee, 130 broken drumsticks later they emerged with an amazing full length album entitled "The Frequency Of Hydrogen". Never ones to rest, Flight Case For Sushi dedicates their lives to their band and it's listeners.

Homeowners Have Trusted Frigidaire for Generations
Ellis Heating & Cooling has been selected to carry Frigidaire's heating and air conditioning products for Clarksville Tn. Frigidaire heating and cooling products are available only through HVAC licensed professionals.
The firm has served Clarksville Tn since 1999 and is an active member of the community involved in many local activities and organizations. Licensed and certified in heating and cooling systems, Ellis Heating & Cooling is also a member in good standing with the Frigidaire Better Business Network. «Read the rest of this article»
Sunday's International Festival proved to be a fun-filled day of festive atmosphere, savory aromas, and cultural interchanges! The myriad of booths with wares of all kinds and foods presented the eager festival guests with a cornucopia of delights to indulge.
Along with the many foods on hand, artisans and crafters also provided ample reasons to dig into the hip pocket or purse and part with some cash. From hand-milled soaps to beautiful Cedar wood bowls and woodcarvings, there was plenty to see and ogle. And we mustn't forget the music. Music was steady! Serenades, drums, guitar and singing, make no mistake, this is a festival that celebrates joyful sounds!
«Read the rest of this article»