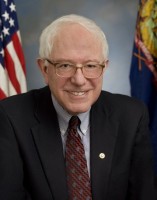 BURLINGTON, Vt. – As crude oil prices jumped to the highest level in six months, Senator Bernie Sanders urged federal regulators yesterday to stop speculators from artificially driving up prices.
Sanders said the Commodity Futures Trading Commission should use its emergency powers – which include the authority to impose speculation limits, increase margin requirements, and suspend trading – in order to ensure that oil prices accurately reflect supply and demand.
"I hope you will seize this opportunity to redefine the CFTC as a strong regulator that will do everything within its power to benefit consumers," Sanders said in a letter to Gary Gensler, the commission's new chairman.
The price of crude oil rose to more than $65 a barrel yesterday. The price has vaulted 70 percent higher since mid-January. The run up in prices is happening despite dropping demand for gasoline, jet fuel and other oil products. According to the federal Energy Information Administration, demand for gasoline over a four-week period that ended May 22 averaged about 9.2 million barrels a day, down 0.4 percent from the same period last year. The International Energy Agency predicts global demand for oil will drop this year to its lowest level since 1981.
Last summer, the commission that oversees commodity markets failed to exercise its powers to oversee energy markets as oil prices soared to a record $147 a barrel and the pump price of gasoline rose to more than $4 a gallon. Experts said speculation accounted for about 50 percent of the price of crude oil last year as consumer prices skyrocketed for gasoline, heating oil and diesel fuel.
"The failure of the CFTC to take strong steps to limit speculation was one of the contributing factors to the current financial crisis, and played a significant role in precipitating not only the present economic recession, but also the largest taxpayer bail-out in the history of the world," Sanders wrote.
In his letter to the commission chairman, Sanders also suggested imposing strict speculation limits on bank holding companies such as Goldman Sachs and Morgan Stanley, companies that Sanders said "These companies are clearly engaged primarily in speculation when it comes to futures trading, including their operation of index funds (such as GSCI), and should be treated as such."
The commission should do a better job policing conflicts of interest that exist in the energy market, he added.  The trading division of companies like Goldman Sachs and Morgan Stanley, the senator said, should not be allowed to make windfall profits on oil while analysts in other divisions of the same firms are driving new buyers into the market by forecasting higher prices.
The senator also suggested that the commission post online quarterly reports describing the role derivatives trading activities have in influencing prices for each major energy commodity, including crude oil and home heating oil.  He noted that the Federal Energy Regulatory Commission recently published a report for natural gas and electricity which concluded that excessive speculation by financial services outfits played a significant role in high prices.
For a copy of the senator's letter to the commission chairman, click here.