The Oak Grove community once again invites everyone to join in the fun and excitement of their annual welcome summer festival, 'Spring into Summer.' The two-day event will herald summertime distractions and offer a variety of entertainment.
May 29th and 30th will see the sprawling greenscape of the War Memorial Walking Trail at 101st Walter Garrett Lane in Oak Grove decked out in colors galore. The free two-day family-friendly fun fest will include boogie bodies extreme entertainment, pony rides, train rides, a petting zoo, inflatables, games, a 3-on-3 basketball tournament, strollers square, caboodlestoppers, craft vendors and 'movies at the vice."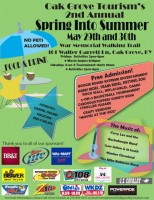 There will a magician and a hypnotist along with music by Terry Lee and the Rockaboogie Band, Lew Jetton & 61 South; Kimber Cleveland, and The Mike Robinson Band. Refreshments will be for sale by vendors. Find the full festival schedule at the Oak Grove Tourism Office link below.
Friday activities are scheduled from 2 PM to 8 PM. The movie starts at 8:30 PM. Saturday's 3-on-3 basketball tournament starts at 10 AM. All other activities will run from 2 PM to 8 PM. Sorry, no pets allowed either day.
For more information, contact  Oak Grove tourism at 270-439-5675 or email