As Memorial Day Week draws to a close, thirty-two U.S. Army soldiers pledge their allegiance to this nation and join the ranks of those people known as United States citizens. A proud moment indeed!
Being a United States citizen, do you ever stop to think about it? Really appreciate it? To ponder for even a moment, what does that mean? For the vast majority of us, sadly the answer would be, 'no.' However, for thirty-two Fort Campbell soldiers that is definitely not their answer. Battle-tested and proven worthy, these young men and women know the significance and meaning being a U.S. citizen. They valued it enough to risk their lives to earn the right to gain it.
"You who have been born in America, I wish I could make you understand what it is like not be an American, not to have been an American all your life, and then suddenly, with the words of a man in flowing robes, to be one, for that moment and forever after.

"One moment you belong with your fathers, to a million dead yesterdays, the next, you belong with America, to a million unborn tomorrows." – George Magar Mardikian, Armenian naturalized U.S. citizen
Early Friday afternoon at Wilson Theater, thirty-two Fort Campbell soldiers stood and took the oath of allegiance, forsaking their former native lands. In so doing, they became Citizens of the United States of America. By their service and sacrifice they have already proven their worthiness. To the cheers of their fellow comrades and families, these young men and women gave fresh testament to the American Ideal, they made new America's promise.
With military band music and dignitaries ranging from the Commander in Chief – President Barack Obama, Fort Campbell post command, the federal magistrate office, U.S. Citizenship and Immigration Services, the U.S. Marshal to Congressman Zach Wamp, along with fellow soldiers and officers, family and friends, Fort Campbell welcomed thirty-two new citizens to our collective bosom. Media representatives from Clarksville Online, WKRN Channel 2 news, WSMV Channel 4news, and WKAG-TV, and  Hopkinsviile's TV-3 provided the only commercial coverage of the ceremony.
Although the ceremony was conducted in Wilson Theater, it was conducted as if in regular US District Court, with the US Marshal opening the court to formally begin the proceedings. US Magistrate Judge W.  David King presided over the proceedings. The 101st Airborne Division (Air Assault) Band played the national anthem. A special citizen welcome address by President Barack Obama was played for the soldier citizen-candidates. Special Assistant US Attorney Michael T. Pfeffer presented the Petitioners' Motion for Admission. Geoff Verderosa, Field Director, US Citizenship and Immigration Services, Louisville, performed the introduction of candidates for citizenship, calling the name of each soldier citizen-candidate.
Magistrate King then administered the oath of allegiance to the candidates. At the conclusion, the theater erupted in applause and cheers from fellow soldiers, family and friends. The expressions on many faces was truly priceless. Rendell Jones, chief financial officer, USCIS, was the honored speaker. He recognized the new citizens for their exemplary devotion to this nation as demonstrated by their service and welcomed them to their new home.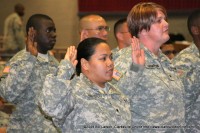 Magistrate King led everyone in the Pledge of Allegiance. He then introduced Congressman Zach Wamp who thanked the new citizens, who by their example, devotion and service, gave new blood to the American ideal and renewed the American spirit.
The new citizens hail from a wide multitude of countries- The Dominican Republic, Honduras, Ghana, Jamaica, Grenada, Guatemala, Argentina, The Philippines, Germany, Ethiopia, Mexico, Kenya, Haiti, Federated States of Micronesia, Venezuela, El Salvador and India.
Having forsworn their former allegiances, the new citizens received their certificates of naturalization, their formal citizenship certificates. Presenting the certificates were Special Assistant US Attorney Pfeffer, USCIS Field Office Director Verderosa, Magistrate Judge King, Deputy Commander Townsend and Congressman Zach Wamp. Each certificate was held tightly by the new citizen as the procession advanced across the stage, proud of this moment.
Magistrate King gave a moment of personal reflection on his own time as a service member and urged each new citizen to strive to be the best soldier, citizen and person they knew how to be. That would be the greatest thanks they can give to their new home. Concluding his remarks, he called upon the US Marshal to close the court.
Refreshments were provided in the theater lobby. Family, friends and comrades posed for photos and socialized, commenting on the day's event.
Our new fellow citizens are:
Castillo Ramirez, Nelson Eliel Mejia, Jeri Jacquelyn Enchil, Robert Williams, Mark Stefan Jackson, Jermaine Michael Wellington, Terri-Ann Tanique Francis, Francis Donnie Morales Perez, Yunior Meyer Henderich, Francisco Javier Banez, Dexter Gerard Antolin Fulgham, Raquel Simpson, May Bugo Thompson, Kerstin Doris Marg Ibrahim, Daniel Garcia Zarate, Francisco Alejandro Ithenya, Paul Karanja Bellune, Junior David, Davis Jose Seno, Roberto Pina, Rolondo Jose Alvarado Zepeda, John Kliver Seyoum, Abera Dechasa Van Boven, Kristopher Errol Fran Augustin, Jean-Michelett Michel Agustin, Leo Davis Garcia Madrigal, Francisco Javier Bhatt, Tatsat Ajay Poty, Barratteau Samuel Del Carmen Orozco, Sergio Figueroa Landos, David Francisco Oeub, and Chris Savuth.
Welcome, my fellow Americans!