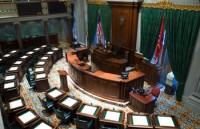 'A Week's Worth' is a feature that gives Tennesseans an in-depth look at what State Senator Tim Barnes has been working on this past week, and a preview for the coming week in the Senate.
This week:
Summer
Protecting hometown car dealers
Local Water improvments

The kids may be out of school, but summer only seems to be coming in fits and starts.
At our house, we're enjoying the mild temperatures while we've got them, though. It won't be long before we are sweating our way through another humid Middle Tennessee summer.
Protecting hometown car dealers and the jobs they fill
Senator Jim Kyle passed a bill this week that protects local auto dealers as well as consumers amid all the turmoil in the auto industry.
The bill ensures that Main Street dealerships – which employ a number of people in our local communities – are not left holding the bag financially for warranties and other guarantees. It requires that money to cover such guarantees be held in trust.
It also establishes that funds will be held in trust to pay off loans and taxes on vehicles that have been traded in.

Local water improvements are on tap
I co-sponsored a bill this week that will open the way for Tennessee communities to improve their drinking water and wastewater facilities. The bill passed Thursday on a unanimous vote in the Senate.
It allows $70 million from the American Recovery and Reinvestment Act to be used for low-cost loans to local Tennessee governments for improving their water systems.
That not only is good for the health of our families, but any improvement to our infrastructure is a plus in attracting businesses that bring good jobs in.
Those of us supporting the water improvement bill overcame an amendment that would have disqualified Tennessee from receiving the money at all. The amendment would only have allowed the loans to go to programs that create jobs.
But the Environmental Protection Agency made it clear that any state attaching such strings to the loans would have automatically become ineligible for the money.