Bill includes tax credits for green companies & sets new home construction energy efficiency standards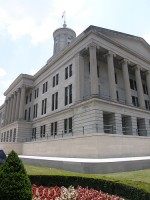 On Thursday, the House overwhelmingly passed the "Tennessee Clean Energy Future Act," a bill designed to reduce Tennessee energy consumption as well as help expand opportunities to bring more green technology jobs to the state.
"Green legislation is more than just being good for the environment," said Pitts. "This bill is about saving taxpayers money, expanding job opportunities for unemployed Tennesseans and doing our part for national security by making Tennessee more energy independent,"
Under the new bill, state government will attempt to lead by renovating state building to be more energy efficient, replacing the state's aging car fleet with alternative fuel and energy efficient vehicles, and providing tax incentives to green technology companies that relocate to Tennessee.
"The more we cut down on our state's energy use, the more savings we can hopefully put back in the pockets of working Tennesseans," said Pitts. "These improvements to state government mean more efficient building and cars and continue to put Tennessee at the forefront of green technology."
In addition to the new state standards, the bill also encourages residential standards be placed on all new home constructions in Tennessee. The legislation is subject to the will of local governments, so any county or city commission not wanting to adopt the energy-efficient requirements can opt out of the program. With Tennessee being one of the top states for wasted residential energy use, the standards are expected to greatly reduce the cost on new homeowners.
"These residential standards mean lower energy bills, safer construction and better resale value in the future," said Pitts. "It's a win for the environment, for the homeowner and the state of Tennessee."
The House version of the bill now heads back to the Senate where it will be voted on later this week.