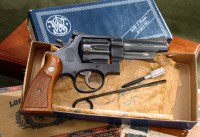 The Great American Gun and Knife show will be in Clarksville, TN on Saturday, June 20th at the Clarksville National Guard Armory (1801 Fort Campbell Blvd) . With Fathers Day coming this weekend, this is a chance to get Dad something he really wants! Admission to the show is is $6.00, under 12 free with a adult. If you print this article and bring it in with you, you will receive $1.00 off the price of admission. «Read the rest of this article»
Hamilton County Nursing Home Cited For Violations

NASHVILLE – Tennessee Department of Health Commissioner Susan R. Cooper, MSN, RN, has suspended new admissions of residents to Life Care Center of Red Bank nursing home effective June 17, 2009, and imposed a one-time state civil monetary penalty of $5,000. A federal civil penalty has been imposed at $6,150 a day until the violations are corrected. A special monitor has been appointed to review the facility's operations.
Life Care Center of Red Bank, a 148-bed licensed nursing home located at 1020 Runyan Drive in Chattanooga, was ordered not to admit any new residents based on conditions found during a complaint investigation and annual survey conducted May 26 through June 9. «Read the rest of this article»
Treasurer Of Ron Paul's Campaign For Liberty Detained And Interrogated For Carrying Cash At St. Louis Airport
NEW YORK – The Transportation Security Administration (TSA) is subjecting innocent Americans to unreasonable searches and detentions that violate the Constitution, according to a lawsuit filed today by the American Civil Liberties Union. The ACLU filed the complaint on behalf of a traveler who was illegally detained and harassed by TSA agents at the airport for carrying approximately $4,700 in cash.
"Airport searches are the most common encounters between Americans and law enforcement agents. That's why it is so important for TSA agents to do the job they were trained to do and not engage in fishing expeditions that do nothing to promote flight safety," said Ben Wizner, a staff attorney with the ACLU National Security Project. "It is, of course, very important to ensure the safety of flights and keep illegal weapons and explosives off planes. But allowing TSA screeners to conduct general purpose law enforcement searches violates the Constitution while diverting limited resources from TSA's core mission of protecting safety. For the sake of public safety and constitutional values, these unlawful searches should stop."
«Read the rest of this article»
Media Democracy Lecture with Dr Peter Phillips of Project Censored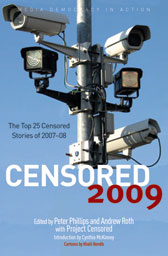 Nashville – Dr. Peter Phillips of Project Censored will be presenting a lecture at the First Unitarian Universalist Church at 1808 Woodmont Avenue in Nashville on June 26th at 7:30pm. The title of the lecture will be 'Media Democracy in a Time of Truth Emergency.' Project Censored is a media democracy project which has been highlighting the 25 most important stories ignored by the mainstream media through an annual publication and the website www.projectcensored.org.
Whether it is NATOs consideration of a "First Strike" Nuclear Option, Cruelty and Death in America's Juvenile Detention Centers or the Seizing of War Protesters' Assets, Project Censored has been there to highlight the investigative journalism that the mainstream media has failed to present to the general public.
According to Project Censored the top most under reported story of 2009 has been the violent deaths of over one million Iraqis since the beginning of the 2003 United States invasion of Iraq. "Over one million Iraqis have met violent deaths as a result of the 2003 invasion . . .These numbers suggest that the invasion and occupation of Iraq rivals the mass killings of the last century—the human toll exceeds the 800,000 to 900,000 believed killed in the Rwandan genocide in 1994, and is approaching the number (1.7 million) who died in Cambodia's infamous "Killing Fields" during the Khmer Rouge era of the 1970s." «Read the rest of this article»
Ingram Gallery Exhibition Explores Invention and Technique
NASHVILLE – The work of Chuck Close, renowned as one of America's foremost artists in any medium, will be featured in Chuck Close Prints: Process and Collaboration, opening in the Frist Center for the Visual Arts' Ingram Gallery June 26, 2009. The exhibition will remain on view through the summer and will close Sept. 13, 2009.
The exhibition, which includes more than 130 works, explores Close's continuing investigation into the relationship between artistic process, vision and creativity. On view in this comprehensive survey will be prints that are widely regarded as masterworks of contemporary printmaking, as seen in such techniques as aquatint, lithography, pulp-paper multiples, direct gravure, silk screen, traditional Japanese woodcut and reduction linocut.
«Read the rest of this article»