I tend to ignore voting on issues where I receive proxy materials in the mail for my 401k retirement accounts. However, Fidelity Investments has a proposal pending to prohibit fund managers from investing in companies contributing to genocide, or crimes against humanity. Obviously, I am not in favor of contributing to genocide in Sudan, or any place else.
This is valiant attempt by some shareholders to influence a huge corporation's policies. This is not a theoretical proposal, you see Fidelity was one of the largest holders of PetroChina, which through its parent company, the China National Petroleum Company, is providing funding that the Sudanese government uses to conduct its genocide in Darfur.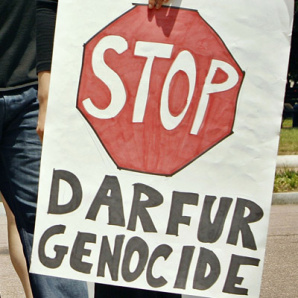 The trustees say "Fidelity seeks to achieve the best investment results for the Fund consistent with the stated investment policies of the Fund" and "investments are lawful under the laws of the United States". In the tangled web of huge conglomerate speak, Fidelity is saying it's ok, because they are not directly investing in the parent company of PetroChina, which contributes to genocide, since that is against US laws. I disagree, the parent companies actions also reflect on its children. Why else would it be called the parent company?
So, I am voting in favor of this proposal, despite the Board of Trustees recommendation to vote against it. If you happen to receive similar proxy materials in the mail from Fidelity, I urge you to open it and read Proposal 3.
The deadline for this vote is July 15,2009.
For more information check out Investors Against Genocide at http://www.genocidefreefidelity.net/