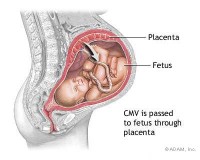 Four years ago last month, my oldest son, Conner, was born with congenital CMV (cytomegalovirus), a horrible virus that most people have never even heard of.  We found out when I was 20 weeks pregnant that Conner had CMV.  In the days that followed the diagnosis I did a lot of research on CMV and was shocked and saddened that this horrible disease which is easily preventable if only people were aware of it. CMV is only harmful to a fetus, and to people who have compromised immune systems. Most people have had this virus as a child and have developed an immunity to it.  The symptoms mimic those of the common cold, and most never discover that they have had it. For some reason, the first time I was exposed to the virus was in my first trimester of pregnancy – which is the worst possible time to be exposed.
Each year in the United States approximately 40,000 children are born with congenital CMV leading to an estimated 400 deaths and leaving about 8,000 children with permanent disabilities such as hearing or vision loss, as well as physical or mental retardation.  It is estimated that 1 in every 150 children born are affected with congenital CMV. Many children who are born with CMV do not show symptoms or experience complications, but others, like my son Conner, are handicapped by it for life.
Over the past few years, I have tried to do all I can to bring awareness to CMV, and to educate others on what can be done to prevent it. On Saturday, ,June 27th there is a Strike Out CMV event at the Nashville Sounds Game. The purpose of the event is "Prevention Through Awareness". Before the game, there will be a tailgate party with free hot dogs and drinks starting at 4:30 p.m. The game starts at 6p.m.  Another CMV mommy (the only family I have met who is also affected by CMV) that lives in Murfreesboro has done a fantastic job organizing this event!
If you are pregnant, or know someone who is pregnant, please take the time to read the attached information about CMV. Pass the information along to your friends and family as well!  I do not want any family or any child to have to needlessly endure the wrath of the CMV virus, like mine has.
Thanks in advance for helping me spread awareness of CMV. I believe it will make a difference and I hope you do too!
Warm regards,
Missy Graham
UPDATE ON CONNER: When I was pregnant I took an experimental drug that I truly believe saved my son's life, and worked miracles for him. After Conner was born, he received the same drug I received while pregnant, gancyclovir, at Vanderbilt for six weeks. The first year of Conner's life was the hardest, today Conner is a happy and energetic 4-year old whose biggest problem is his hearing loss. He is attending a great school for the deaf at Vanderbilt, and is making good progress. He is a great big brother, and keeps me on my toes!
Flier
For more information see the CMV Brochure