Today, Austin Peay State University forged new territory when it broke ground for the new Chemical Engineering Technology Facility (CETF).
"Crossing over Eighth Street is kind of a first for us," APSU President Tim Hall said during a groundbreaking ceremony at the site located across from the Sundquist Science Complex on Eighth and College streets.
With ceremonial shovels in hand, APSU officials were joined by representatives from Hemlock Semiconductor Group, a Michigan-based company "directly responsible for the new building today," Hall said.
"This new progress is happening precisely because we're forming partnerships," he said.
In addition to comments by local and state dignitaries, Rick Doornbos, president and CEO of Hemlock Semiconductor Group, presented a $2 million check to APSU to purchase laboratory equipment for the building.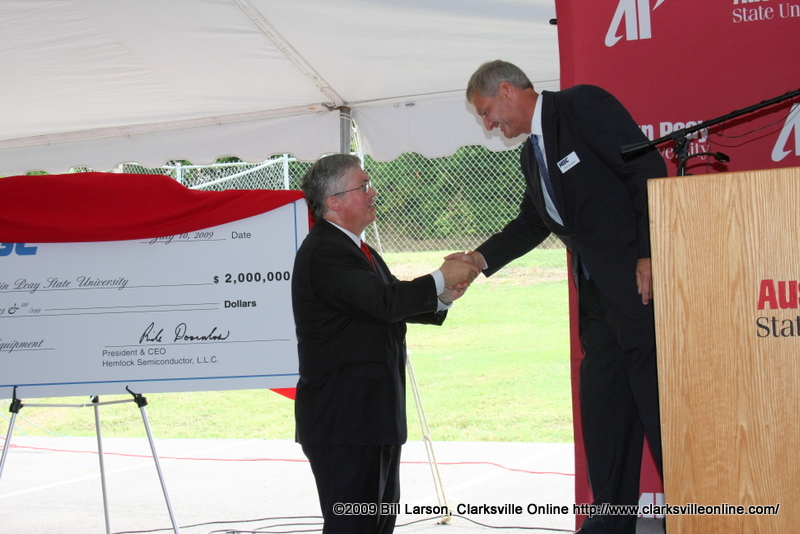 "This is a partnership of both the public and private sector," Doornbos said.
The donation from Hemlock is one of the largest monetary gifts given to APSU.
Under a $6.4 million grant from the state, APSU will build the new lab facility on campus and work with both the Tennessee Board of Regents and the Tennessee Higher Education Commission to offer an associate degree program in chemical engineering technology.
Construction of CETF is scheduled to begin soon. The building is slated to be open in time for the Fall 2010 semester.
The new facility and degree program culminate from the announcement in December 2008 that Hemlock will build a new production facility in Commerce Park. Hemlock is a leading manufacturer of products used in the growing solar cell technology industry.
Many specialized jobs will be created at the plant, requiring specialized education and training from APSU.