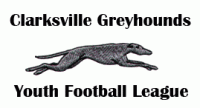 The Clarksville Greyhounds Youth Football League is forming teams for the 2009 football season. The Clarksville Greyhounds are a member of the Tennessee Youth Football Alliance and will play teams from various areas throughout Middle TN. Signups will be July 18th from 9:00 am-1:00 pm at Greenwood Grounds Complex, 430 Greenwood Avenue. If you are interested in playing or coaching, please send an email to or call 931-472-6101
The Downtown Market is going to the dogs Saturday, July 18.  This Saturday's theme at the market is "Dog Days." The Clarksville-Montgomery County Humane Society will be the guest vendor providing fun activities for dogs and their human friends.  A Bobbing for Balls game, Italian Ice for dogs, and an information booth are a few of the things you will find. The group is also bringing pets that are available for adoption or in need of foster homes.
Aside from furry friends, the market will feature baked goods, jewelry, homemade crafts and more.  If you are looking for fresh fruits and vegetables, this is the perfect opportunity.  Fresh produce will be abundant at the market this weekend.  So, bring your dog and enjoy everything the Downtown Market has to offer.
As always, the Downtown Market is open 8:00a.m. until 1:00p.m. and is located at 1 Public Square.  If you are interested in becoming a vendor at the market call 645-7476 or fill out and return the application online at www.cityofclarksville.com.
$75 million HUD-VASH program to provide rental housing and support services
WASHINGTON – U.S. Housing and Urban Development announced today the final allocations of more than 10,000 vouchers to local public housing authorities across the country to provide permanent supportive housing for homeless veterans.
For a local breakdown of the rental vouchers announced today, visit HUD's website.
"Numerous men and women voluntarily leave their families and put their lives on the line to ensure that we, their fellow Americans, live safely in our homes," said HUD Secretary Shaun Donovan, who announced the $75 million in funding last month with Veterans Affairs Secretary Eric K. Shinseki. "These vouchers offer veterans a permanent home and critically needed supportive services to those who have served our nation." «Read the rest of this article»

NASHVILLE – Tennessee continues its efforts to ensure the health of state residents during the flu pandemic. Late last week, state officials from the Departments of Health, Education and Homeland Security participated in the 2009 Flu Summit organized by the United States government, where federal planning and response efforts were discussed.
"The summit gave federal and state officials the opportunity to share strategies and information that will be helpful in preparation and planning for the upcoming flu season and the flu pandemic," said Health Commissioner Susan R. Cooper, MSN, RN. "Flu-related illness continues across the state and U.S., and this is expected with a pandemic. However, I urge all Tennesseans to remain vigilant and practice good hygiene to prevent the spread of flu."
http://www.youtube.com/watch?v=KrzA2IircWc<span> «Read the rest of this article»
The Tri-Cities Magicians' Society will be holding their next meeting 6:30 p.m on July 21st, at the Shoney's on Wilma Rudolph Blvd. The group composed of magicians from Clarksville, Ft. Campbell, and Hopkinsville meets on the third Tuesday of each month, to have dinner, talk magic, share tricks & ideas, and to plan shows and events. The group invites area magicians and anyone interested in magic to come and join them.
Austin Peay State University is driving on the green energy highway in four new electric-powered vehicles.
APSU recently purchased the Global Electric Motorcars (GEM) as part of ongoing efforts to implement green technology on campus. The green fleet – which includes two six-passenger GEMs, one four-passenger and one two-passenger – is used by APSU staff to travel on campus for maintenance projects, deliveries and errands.
Al Westerman, director of facilities and projects at APSU, said the vehicles manufactured by Chrysler can travel about 30 miles on a single battery-electric charge.
«Read the rest of this article»


Join Clarksville Parks and Recreation this Saturday, July 18, at Heritage Park Soccer fields for this month's Movies in the Park event.
Pre-show activities for Movies in the Park will begin at 6 p.m. and the movie will begin at dark. We cannot tell you the name of the movie, but we can provide you with this hint: this movie is for everyone who has waited to be chosen and wasn't. Your day has come with the 1994 classic where little football players become giants in this feature presentation.
«Read the rest of this article»
It started as an idea back in 1978. Now roughly 30 years later, the construction of the Clarksville Marina is underway. The ground breaking ceremony was held at the Fairgrounds Park yesterday, to a standing room only crowd.
«Read the rest of this article»