Austin Peay State University is driving on the green energy highway in four new electric-powered vehicles.
APSU recently purchased the Global Electric Motorcars (GEM) as part of ongoing efforts to implement green technology on campus. The green fleet – which includes two six-passenger GEMs, one four-passenger and one two-passenger – is used by APSU staff to travel on campus for maintenance projects, deliveries and errands.
Al Westerman, director of facilities and projects at APSU, said the vehicles manufactured by Chrysler can travel about 30 miles on a single battery-electric charge.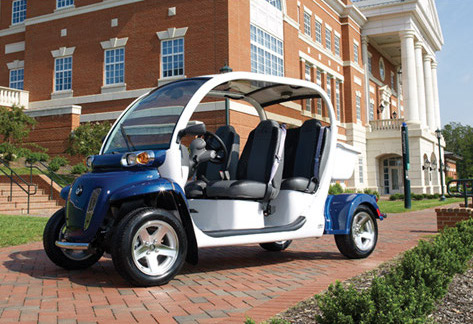 The GEMs are replacing four of the University's gasoline-powered vehicles. Mike Ramsey, who works in the APSU Physical Plant, came up with the idea for the University to have electric cars and assisted with the effort to obtain them.
"I hope to see us purchasing more of the electric cars," Westerman said. "We hope to do a one-to-one replacement in the near future."
GEM vehicles, with a total cost of $69,000, were funded with money from student sustainable fees. Each APSU student pays $10 a semester toward green energy projects. A sustainable fee committee, which Westerman chairs and composed of students, decides on how the money is invested to promote green technology on campus.
"With our enrollment increasing, that will mean more in sustainable fees the University will receive," Westerman said. "Our students are helping this campus to go green."