The Downtown Market is going to the dogs Saturday, July 18.  This Saturday's theme at the market is "Dog Days." The Clarksville-Montgomery County Humane Society will be the guest vendor providing fun activities for dogs and their human friends.  A Bobbing for Balls game, Italian Ice for dogs, and an information booth are a few of the things you will find. The group is also bringing pets that are available for adoption or in need of foster homes.
Aside from furry friends, the market will feature baked goods, jewelry, homemade crafts and more.  If you are looking for fresh fruits and vegetables, this is the perfect opportunity.  Fresh produce will be abundant at the market this weekend.  So, bring your dog and enjoy everything the Downtown Market has to offer.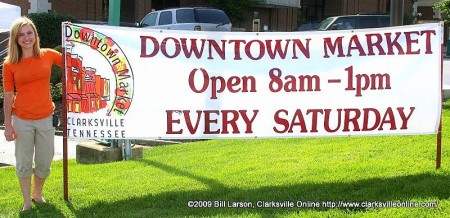 As always, the Downtown Market is open 8:00a.m. until 1:00p.m. and is located at 1 Public Square.  If you are interested in becoming a vendor at the market call 645-7476 or fill out and return the application online at www.cityofclarksville.com.