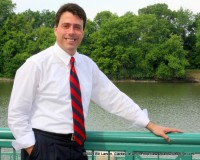 The recent comment by Marsha Blackburn on the floor of the US Congress that she hoped that lawmakers would agree that "We're not going to cry 'emergency' every time we have a Katrina, every time we have a tsunami, every time we have a need for extra spending" was incredibly insensitive, uninformed and embarrassing. Her comments also strongly suggest she is very disconnected from the plight of so many fellow Americans as a result of the billions of dollars of destruction caused by the very real emergency called Hurricane Katrina.
In fact, her comments are especially troublesome given that the Congresswoman is originally from Mississippi, an area so severely damaged by Katrina and considering that so many middle Tennesseans recently were victims of a tornado that ripped through the state. I join the Tennessee Democratic Party in calling upon Blackburn to apologize for such irresponsible comments and invite all Tennesseans regardless of party to demand she makes this apology in the name of simple courtesy. As Tennesseans, we don't expect our lawmakers to cry over emergencies as Blackburn suggests just to simply call a real emergency an emergency and then do the right thing.
Blackburn' has responded to the calls for her to issue an apology, brought by the TNDP, the Rabidoux campaign, and others, by claiming that her thoughts simply moved ahead of her speech in a statement released through a spokesperson, seems merely to suggest that what she said was truly what she meant just that maybe. Regardless, the many victims of Katrina and other all too real emergencies, including those families who have suffered through such emergencies right here in Tennessee deserve more respect, understanding and responsible leadership from their elected officials. What was needed was a real, heartfelt apology from Blackburn not a "so-called" apology.
About Greg Rabidoux
Dr. Rabidoux is the youngest of three children. He and his wife Mara have one son, Valentin. Dr Rabidoux is currently a professor at Austin Peay State University where he teaches politics and law, and heads up the university's pre law program. His wife Mara, a former NCAA Division I All-American tennis player, teaches Spanish at APSU.
For most of his adult life, he worked full-time while attending school at nights. He received his B.A. from the University of Connecticut in political science and journalism, his Masters degree from American University in Washington DC in public policy. He earned his PH.D from the University of Wisconsin at Milwaukee in American Government, and his JD from Marquette University Law School. He has practiced law and is a certified professional mediator, having mediated for the US EEOC. After completing his M.A. degree he worked for a US House of Representatives Member and later for the United Nations in New York.
Rabidoux  writes a regular weekly column on politics for The All State Newspaper and on-line editions, and has been published in such publications as The National Jurist, USA Today and Reader's Digest. He is a lifelong Democrat and currently a member of the Montgomery/Clarksville Democratic Party and State of Tennessee Democratic Party. He serves on the Board of Directors for the Arts and Heritage Development Council of Clarksville, Tennessee which sponsors this year's (Summer 2009) Writers Conference and Tobacco Heritage Tour. Greg and Mara are Christian, and members of the Clarksville YMCA.
Contact the campaign
You can find more information on the Rabidoux campaign at his web site. You can email him, follow his campaign via twitter, or facebook, and make campaign contributions via his Act Blue Page. You can also contact them via postal mail:
Rabdidoux4Congress P.O. Box 3173 Clarksville, TN 37043