Okay, this is another example of "there's no vaccine for stupidity" and I have to admit I was wrong.
We wives usually have a pretty good idea of how to handle consumer affairs, but once in a great while, we blow it. This is the one time in recent history that my husband was right—and I should have listened to him.
It all started with a $2-off coupon I found in the newspaper. A sucker for a good deal, I just couldn't pass this one up.
Having been born with skin the color of a flounder fillet, I have always longed for a golden summer tan. Having no tolerance for lying in the blistering sunshine, I have rarely attained one.
This sun bronzer (minus the $2) claims to give you the glorious tan you have dreamed of with just so-o-o-o-o little effort. Just spray it on and then add a little every day until you are the color you want to be.
Sounds easy, doesn't it? «Read the rest of this article»
Tuesday, July 28, 2009, 10:00 a.m. to approximately 4:00 p.m.

Water customers on Powell Road near Exit 8 will experience low water pressure beginning Tuesday, July 28, 2009, at 10:00 a.m. to approximately 4:00 p.m. while Gas and Water construction workers perform system maintenance on water and sewer lines in the area.
The Goldsmith Press and Rare Type Collection at Austin Peay State University has a number of public art projects printed in the last 12 years on display at the main downtown branch of the Nashville Public Library.
The show, titled "Telling the Story: Letterpress and Community," features posters, quilts, limited edition prints, books and three-dimensional printed environments that tell stories about the Clarksville community. The exhibition, free and open to the public, is available for viewing daily until Sept. 27 at the Nashville Public Library, located at 615 Church St.
APSU's press is sharing the Nashville Public Library's main exhibition space with Middle Tennessee State University's Franklin Printing Press. «Read the rest of this article»
Tuesday, July 28, 2009, midnight to Wednesday, July 29th, 5:00 a.m.

Water will be disrupted at midnight on Tuesday, July 28th, to early Wednesday morning, July 29th, at 5:00 a.m. on both sides of N. Riverside Drive from the southern corner of the Two Rivers Mall to the intersection of N. Riverside Drive and from N. 2nd Street along Providence Boulevard to the Red River Bridge.
A contractor will be relocating water main lines in preparation of the N. Riverside Drive intersection improvement project.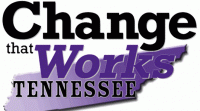 With less than 24 hours notice, Change That Works and its coalition partners staged a massive counter-demonstration at a Tea Party in Rutherford County in front of Rep. Bart Gordon's office, turning a Tea Party into a "Healthcare Party".
The anti-reform "Teabaggers", who numbered about seven people, were overwhelmed as over 60 healthcare supporters stormed the square in downtown Murfreesboro to urge Bart Gordon to support H.R. 3200. «Read the rest of this article»