Day Two of Tobacco Heritage Tour of Historic Homes leads into Annual Writers' Conference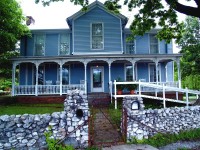 Day Two of the annual Tour of Historic Homes took participants to divergent parts of the city in celebration of its Tobacco Heritage. Participants again gathered at the Riverview Inn parking lot at nine o'clock. Once abroad the tour bus, they crossed the Red River and traveled to the New Providence area where hidden treasures of the tobacco era where visited and their heritage made known. First stop on the tour was the Rossington-Minor House at the corner of Chapel and Beech Streets. Next was the Wider-Pettus House at 411 Beech Street followed by the Herndon-Cunningham House at 501 E. Street.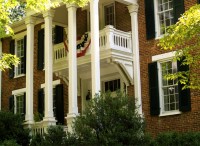 By 9:45 AM the tour stopped at Upland Hall, 149 Plum Street and retracing its steps back across the Red River, continued on to Colonel Forbes' House at 610 N Second Street at 10 AM. Next stop on tour was the Gracey-Tarpley House at 331 Franklin Street.  The history of these homes belies the state of their present surroundings, astounding many of the tour participants. Leaving the Gracey-Tarpley House, participants dined on lunch at the Customs House Museum.
The tour resumed at 12:45 PM with a stop at the Old Clarksville High School at the corner of Greenwood Avenue and Madison Street. Robert Penn Warren graduated from this school in 1921. He would go on to wrote the novel, Night Rider, which depicted the battles of the Black Patch Tobacco Wars. This was followed with a stop at the Johnson-Hach House at 403 Greenwood Avenue. This home once served as the boys dormitory for Clarksville High School. Next on the tour was the Johnson-Tyler House which sits at 409 Greenwood Avenue.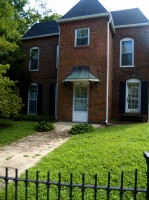 Shortly after 2 PM the tour visited Tip Top Mansion at 15 Trahern Terrace. Then it was on to the grounds of the former Hachland Hills Bed and Breakfast Retreat for the relocated log cabin of Mary Neely who was taken captive by Shawnee Indians at Fort Nashborough in 1780. Tour participants were treated to a period actress welcoming them to the grounds and talking about the history of the cabin's famous namesake. From here the tour proceeded to the last stop, the Smith-Trahern Mansion at the corner of Spring and McClure Streets. The Smith-Trahern's view to the Cumberland River provided a refreshing backdrop to the story of its richly steeped history.
With the conclusion of the Smith-Trahern visit, the participants ended the day with the return to Riverview Inn parking lot. The next day would see the start of the two-day Writers Conference at Austin Peay State University.
2009 Writers Conference Tour Photo Gallery