What's going on at Dunbar Cave is an occasional piece written by Park Interpreter Amy Wallace
Flowers that are blooming now include Swamp Milkweed, a pink ballerina-looking flower that can be found at the edge of the lake; Ironweed, a rich deep purple flower with a stem that can reach 9 feet or more; Orange Coneflower, found in one spot along the lake shore (looks a lot like a black-eyed Susan); Creeping Primrose, a yellow flower that actually grows in the water at the edge of the lake; Wild Sensitive Plant, that looks like a small mimosa tree, has small yellow flowers; Tick Trefoil, with three leaflets and a pealike lavender or pink flower (this will later have the brown triangular seeds that stick all over your clothes); and Tall Bellflower, with blue flowers, found growing near the rock walls on the way to the cave.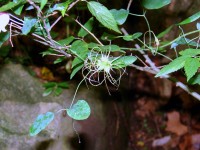 We also have the fruits of flowers from earlier in the summer – the alien looking fruit of the Wild Clematis and the round green ball (will turn dark purple later) that is the fruit of the Yellow Passion Flower.
Our crayfish are coming out onto the banks of the lake and making chimneys to hide while they shed their exoskeleton and the new one hardens.