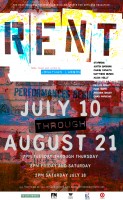 Several years ago I had the extreme pleasure of calling people in to be filmed as they talked about the good ole days at Dunbar Cave.  The Friends of Dunbar Cave and Jason Baggett of Clean Cut Productions at Austin Peay were making a film which included the oral history of the resort.
As people talked about Dunbar Cave in its heydays their eyes would light up.  I could feel their excitement as they described the place that put life into their worlds.
Dunbar Cave bought the latest entertainers and the latest sounds to Clarksville; it brought celebrities and made celebrities out of the locals.   Zoot Parker, a local known for his great dancing, said that Hollywood didn't have a thing over Dunbar Cave.  For kids and young adults the Cave brought the world here to Clarksville and they weren't afraid of it.
"…brought the world to Clarksville"
I thought of this again as I left the Roxy Theatre after a performance of Rent. 
The acting was so good that I felt like I was in New York City watching a Broadway show.  It is obvious that the actors really love doing the show; they give it 120%.  The singing is so awesome it is unreal.  The stage is always alive and the play reminds me of New York, there is always someone on stage watching, standing around, while the main actors have their conversations.  You're never alone in the city; physically at least.  The glamour of NYC is pushed off in this play.  It's a difficult place to live.
As they explore and show the dynamics of several relationships, the struggling artists exude with life and love that is communicated in song.
And Rent brings the world to Clarksville.  In Clarksville we are capable of missing the outside world.  Our values and our visions are influenced by the limits in our town.  A taste of the outside is refreshing and invigorating.  The Roxy has brought the world to us and it is brilliant; it is full.
The show runs Tuesdays through Thursdays from 7 to 9 p.m.  Fridays and Saturdays it from 8 to 10 p.m. through August 21.  Get right out of town at the theatre! http://www.roxyregionaltheatre.org/nowplaying/index.html