Tennessee Highway Patrol Reminds Motorists to be Safe in the School Zone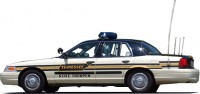 Nashville – The Tennessee Highway Patrol is working to make sure that school children are safe in the school zone. As thousands of students of all ages return to the classroom on foot and in school buses, motorists need to be extra cautious in and around schools zones.
"One of the first lessons a child learns as they begin their formal education is how to be safe going to and from school," stated Department of Safety Commissioner Dave Mitchell. "The goal of the Tennessee Highway Patrol is to help local law enforcement and schools protect children from drivers who may be distracted, impatient or careless."
Motorists and children should heed State Troopers' message to "Be alert! Slow down! Be safe in the school zone!" THP's back to school enforcement effort includes cracking down on motorists who disregard laws designed to protect children, and monitoring schools zones and bus stops to help keep children safe as they travel to and from school. Remember, the speed limit is 15 mph in school zones and the fine for speeding in a school zone is up to $500.00 dollars. It's also against the law to pass a school bus when stopped and receiving or discharging passengers and the driver can be fined not less than $250.00 and up to $1,000.00.
Since 2006, there has been an 11.5 percent decrease in the number of crashes occurring in school zones between the hours of 6a.m. and 9 a.m. and the hours of 2 p.m. to 5pm. There was also a 17.4 percent decline in the number of school bus-related crashes between those same hours.
"Motorists need to remember that a school zone is more than just the 15-mile per-hour-zone around a school. It's anywhere our children travel," stated Tennessee Highway Patrol Colonel Mike Walker. "Children riding with parents or friends need to remember to buckle up properly. That means kids in seats belts, young kids in booster seats and little kids in a child safety seats."
Each day, 25 million children in the United States ride school buses, including 600,000 in Tennessee, according to the National Highway Traffic Safety Administration (NHTSA). The National Safety Council (NSC) reports approximately 29 students were killed while they were entering or exiting a bus in the U.S. last year. Close to 800 children are killed annually and many more injured going to and from school in a vehicle other than a school bus, according to the NSC.
For more facts, figures & safety tips, please see the attached Safety Tips and visit our Web site: www.TN.Gov/Safety.
The NTHSA offers the following information to help make school bus stops a safer place for all:
School buses are the safest way to get to school
School buses are nearly eight times safer than passenger vehicles. But children must take care when boarding or leaving the bus. While an average of 7 school-age passengers are killed in school bus crashes each year, 19 are killed getting on and off the bus.
Most of those killed are children from five to seven years old. They are hit in the danger zone around the bus (A), either by a passing vehicle or by the school bus itself. It is illegal for a vehicle to pass a bus with its red light flashing.
Young children are most likely to be hit because they
hurry to get on or off the bus,
act before they think and have little experience with traffic,
assume motorists will see them and will wait for them to cross,
don't always stay within the bus driver's sight, or
drop something as they get off the bus and run into the path of the bus to pick it up.
Teach your child to get on and off the bus safely
When getting on the bus, stay away from the danger zone and wait for the driver's signal. Board the bus one at a time.
When getting off the bus, look before stepping off the bus to be sure no cars are passing on the shoulder (side of the road). Move away from the bus.
Before crossing the street, take five "giant steps" out from the front of the bus, or until the driver's face can be seen (A). Wait for the driver to signal that it's safe to cross.
Look left-right-left when coming to the edge of the bus to make sure traffic is stopped. Keep watching traffic when crossing.
Safety steps you can take
Supervise children to make sure they get to the stop on time, wait far away from the road, and avoid rough play.
Teach your child to ask the driver for help if he/she drops something near the bus. If a child bends down to pick up something, the driver cannot see him/her and the child may be hit by the bus. Have your child use a backpack or book bag to keep loose items together.
Make sure clothing and backpacks have no loose drawstrings or long straps, to get caught in the handrail or bus door.
Encourage safe school bus loading and unloading.
If you think a bus stop is in a dangerous place, talk with your school office or transportation director about changing the location.
Learn and follow school bus stop laws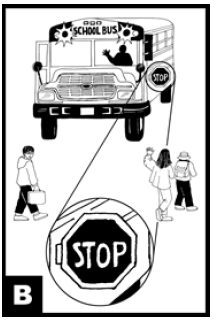 Laws exist to protect children getting on and off the bus AND protect you from a tragedy. Tennessee law requires that:
Vehicles must stop before reaching a bus that has its flashing red warning lights and/or stop signal arm extended (B). Vehicles may not pass until the flashing red lights and signals are turned off.
Vehicles traveling in the same and opposite direction as the bus on an undivided road are always required to stop.
Vehicles traveling on a divided, or separated, highway do not have to stop when meeting or passing a bus on the other side of the road.
Drivers never pass on the right side of the bus, where children enter or exit. This is illegal and can have tragic results.
Violation of these laws can result in a citation and fine. In many places, school bus drivers can report passing vehicles.
About the Tennessee Department of Safety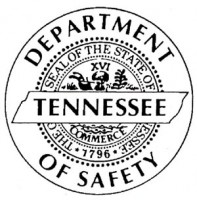 The Tennessee Department of Safety's mission is (www.TN.Gov/safety) to ensure the safety and general welfare of the public. The department encompasses the Tennessee Highway Patrol, Office of Homeland Security and Driver License Services. General areas of responsibility include law enforcement, safety education, motorist services and terrorism prevention.