When you talk to people about the arts in Clarksville, Montgomery County Tennessee you will frequently find Silke Tyler's name mentioned. Who is she? She is the proprietor of Silke's Old World Breads located at 1214A College Street, she is also the hostess of the wonderful bi-monthly "Evening with the Artists" art exhibition. The next show will be held on Saturday August 15th from 6:30pm till 8:00pm. There is no cost for admission, and Silke provides her delicious food as refreshments.
The "Evening with the Artists" event brings together Silke's great food, outstanding friends and acquaintances, and some of the finest art and artists in our community. This month the featured artist will be Richard Hogan. Previous featured artists included Jim Hancock and his Mediterranean reflections, the alternative process images of Heidi Hopkins and Winni Bagley, and the expert photography of Alan Goldstein, among many others; which unfortunately are too numerous to be able to mention all of them here.
One cannot be a true connoisseur of art in our community, without attending Silke's art events. We hope that you will attend!
About Richard Hogan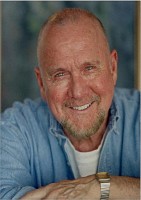 Richard Hogan began painting in earnest shortly after he retired in 2001. He has a doctorate in Physiology and Biophysics, and his professional life was in the scientific area, through research, teaching, and administration. His early paintings were traditional and very linear in approach.
Due to a fortunate mistake a unique technique was developed using airbrush and spray and a series of acrylic glazes on natural templates such as leaves, branches, weeds, and stems. Landscapes are the primary focus of his paintings reflective of boyhood memories in the Ozark Mountains of Northwest Arkansas. Jurors have described his works as ethereal, mystical, muted, and "foggy."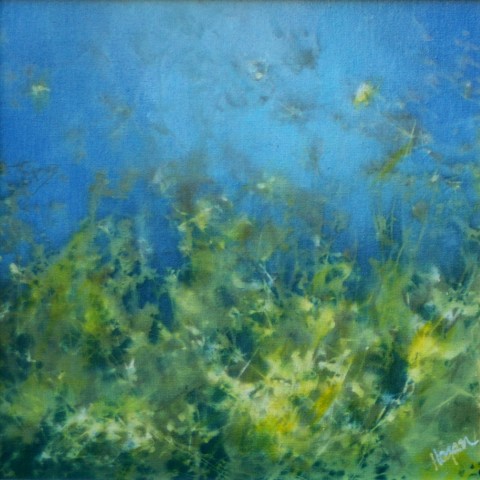 His experiences since retirement have been quite different from his scientific background; however, he feels there are no marked differences in the philosophy and approach of art and science. At 73 years of age, he is developing yet another technique using multiple layers of glazing coupled with heavily textured canvas, the results of which are very colorful and clearly abstract.
His current artwork continues to express nature as a dynamic and integral component of contemporary life. Interpretation, perception, and transfiguration of his work provides for a wide spectrum of viewers.