The Fort Campbell Federal Credit Union has opened a new branch on Madison Street that introduces an entirely new way to do your banking in the Clarksville and Fort Campbell areas.
The dialogue branch at 2193 Madison Street is Fort Campbell Federal's eighth branch and one of three of its kind to be completed by the Credit Union by the end of 2010.  A branch at Tiny Town and Heritage Pointe will open by the end of 2009 and a third branch in the Dover Crossing area is in the works.
With new technology and an open floor plan, Fort Campbell Federal will bring back the basics with a greeting at the door, fresh coffee and one on one service.  The Madison branch replaces traditional teller lines with circular towers where the member and credit union employee stand side by side to complete the transaction.  "Both parties will be able to view the same computer screen, which allows the entire process to be open, creating a true dialogue between credit union staff  and members", says Stewart Ramsey, President and CEO of Fort Campbell Federal Credit Union.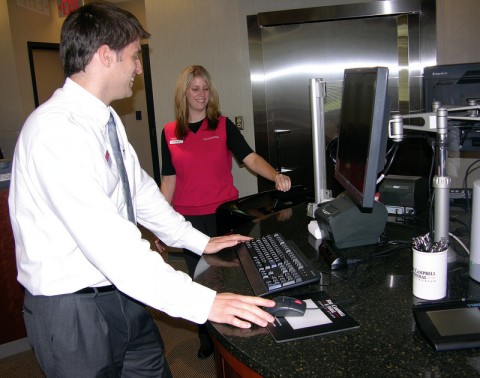 Cash and checks are deposited and dispensed thru an ATM-like vault built into each tower, increasing the efficiency and security of each transaction.   Credit Union staff are cross-trained to assist members with all their transactions as well as new accounts and loan applications.
Ramsey points out that "although it's technology that makes these changes possible, it is still all about the people.  A credit union is a member-owned financial cooperative and the dialogue branch model allows us to focus on providing outstanding service: a greeting at the door, open conversation and a handshake.  The technology is just the tool we are using to take things back to basics."
Fort Campbell Federal Credit Union is inviting the community to the grand opening of its new branch at 2193 Madison Street on August 26th from 8:30 A.M. to 4:00 P.M.
With more than 35,000 members and 8 branches, Fort Campbell Federal Credit Union membership is open to everyone who lives or works in Montgomery and Stewart counties in Tennessee and Christian, Trigg, and Todd counties in Kentucky.