Jeffrey Scott Stewart will perform at Blue Note Coffee in Clarksville, TN on Saturday, August 29, 2009, 7:00 pm -10:00 am
Jeffrey Scott Stewart, currently touring in support of his live album, "Live Dogs",  as well as his newest (fifth) album "Sweet Stuff" – an all-blues collection – will be making a triumphant return to Blue Note Coffee on Saturday, August 29, 2009 from 7-10:00 pm.  These albums have been getting airplay in Kentucky, Tennessee, Alabama, and Germany.  Stewart has been touring extensively in the region and enjoying live radio interviews/performances and great reaction to his live shows.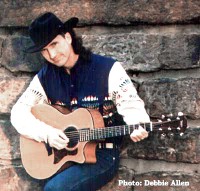 Jeffrey Scott Stewart is a Singer, a Songwriter, and a Multi-Instrumentalist.  Originally from Southern California and now based in Nashville, Tennessee, Jeff has had his songs heard in movies, documentaries, television and radio from Seattle to Switzerland, and of course – on the internet and internet radio stations, where he enjoys frequent rotation – worldwide.
A songwriter since the tender age of six, Stewart started learning guitar at the age of nine, and now also performs on mandolin, tenor banjo and even accordion.   Growing up listening to Top 40 radio when it included all styles of music gave him an appreciation for a wide variety of music, which is evident in his performances.  An "Americana" artist, he performs in styles ranging from Country, Blues, Bluegrass, Cajun, Pop, Jazz, Rockabilly and R&B.  His singing has been compared to the likes of Roy Orbison, Toby Keith, Trace Adkins, and Garth Brooks.