The weekly Clarksville Parks and Recreation Department Recreation Report provides Clarksvillians with a glimpse at the activities and events that are available from the Parks and Recreation Department for them to enjoy together as a family. This weeks highlights include:
Clarksville Community Centers in full swing
Movies in the Park
Don't miss the Downtown Market
Images from Jammin' in the Alley
Clarksville Community Centers in full swing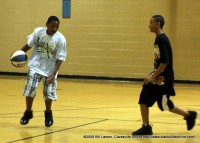 All three of the Clarksville community centers are in full swing with after school and evening activities.  The youth basketball league began Thursday at the Burt-Cobb Community Center and will continue every Thursday from 4:30-6p.m. through October.  The league is for youth ages 11-17.  Players will be divided into age groups and placed on teams.
For youth who are looking to expand their artistic skills, Kids on Crafts is the ideal class for them.  Classes begin tomorrow at all three community centers from 3-4:30p.m.  The class is led by art instructors who teach kids a wide variety of artistic skills.  The class lasts ten weeks and finishes with an art show to display what the kids created during the course.  The cost for the class is free.
On Wednesday nights, adults ages 18+ are welcome to enjoy open volleyball games at the Burt-Cobb Center.  Games begin at 6:30p.m. and conclude at 9p.m.  Games are informal and are a great way to have fun while getting exercise.
Along with the evening programs at the community centers, youth and adults can stop by to use the computer lab, lift weights, play on the racquetball court and enjoy the game room.  Use of the community centers (and participation in any classes at the centers) requires an I.D. that can be purchased for $5 at any of the community centers.  The I.D. is good for an entire year.
Stay tuned for other new and exciting activities and classes that are set to begin at the community centers in the near future.  Some of these include ballroom dancing, aerobics, cheerleading, toddler activities and more.  Continue to check out our website at www.cityofclarksville.com/parksandrec for newly added classes.
Movies in the Park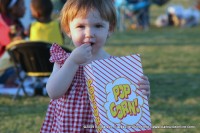 We hope everyone will join us Saturday, August 29 for this month's Movie in the Park.  We are excited to show a movie that has quickly gained widespread following all across the United States.  This month's feature is "a modern day tale of forbidden love between Edward and Bella."  Any guesses?
Pre-show activities, including games for kids, begin at 6p.m.  Christy's School of Performing Arts will display some of their talented dancers at 7:15p.m. and the movie is set to begin right after sunset.  If you have not been to this community favorite series Movies in the Park, this is one you do not want to miss.
Don't miss the Downtown Market
This week's Downtown Market theme is "Share a Recipe" week.  Vendors and other friends of the market have submitted their favorite recipes that will be featured in a cookbook.  The cookbook will be available at the market for only $5.  Junior Auxiliary of Clarksville will also be at the market selling their cookbook.  This is a great week to pick up a cookbook and explore some of the new ways to prepare your favorite foods.
Along with the wide variety of home grown produce, freshly baked pies, homemade soaps, bread, candles, beautiful stained glass and jewelry,  the Downtown Market is very excited to have on-site charcoal portraits next Saturday.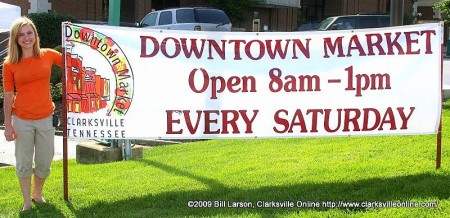 Cumberland Jazz Project at Jammin' in the Alley