On a recent July afternoon, an Army officer carrying a sword approached Dr. Bert Randall, an APSU professor of philosophy. Randall had just spent the last two hours instructing approximately 100 soldiers with the 1st Squadron, 32nd Cavalry Unit at Fort Campbell, Ky., on the Qur'an and the way its teachings regarding war and peace have been perverted and misinterpreted by extremist groups.
As he saw the officer with the sword walking toward him, Randall's first thought was "I hope the talk was not that bad."
When the officer gave the professor a closer view of the saber, the name "Albert Randall" was etched into it. It was a token of gratitude from the soldiers for his taking the time to talk with them.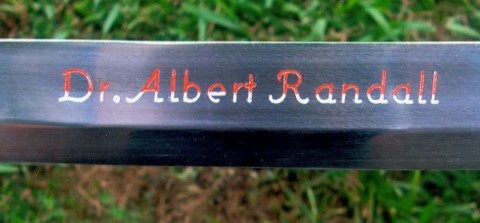 "Such a recognition was totally undeserved, but often these are the most precious recognitions we receive," Randall said.
For the last five or six years, Randall has visited such units at Fort Campbell as the 1st Brigade Combat Team, the 5th Special Forces Group, the Night Stalkers Helicopter unit and the 6th Battalion, 101st Aviation Regiment. As a professor of world religions specializing in Islam and the Middle East, he provides these men and women with valuable insights into the communities and cultures they encounter while deployed to areas such as Iraq and Afghanistan.
The soldiers offer to pay Randall for these training sessions, but he has always politely refused.
"Because these courageous and honorable men and women give their lives to protect our freedom, it would be dishonorable to receive any pay," he said. "I asked Lt. Col. (Doug) Vincent to give me something special for my grandchildren, Shelby and Jace. Jace has been interested in Fort Campbell since he was 4. I suggested a company coin or hat or T-shirt if such a gift was appropriate.
"More important than the undeserved saber was their invitation to bring Shelby and Jace with me for the second session so that while I was doing the presentation, a couple of soldiers could take them to see the Humvees and helicopters. What a kind and thoughtful thing to do."
On a Friday afternoon in August, Randall and his family returned to Fort Campbell. While the professor instructed about 30 officers on the Sunni-Shi'a conflict and the violent influence of the Wahhabis, al-Qaida and the Taliban, his grandchildren were accompanied by 1st Lt. Chaplain Corey Arnold's assistant for the opportunity to sit in the pilot's seats of the helicopters they often glimpse flying high above the city on clear afternoons.
The 1-32 CAV also presented Randall and the children with unit coins and Bandit (the unit name) T-shirts.