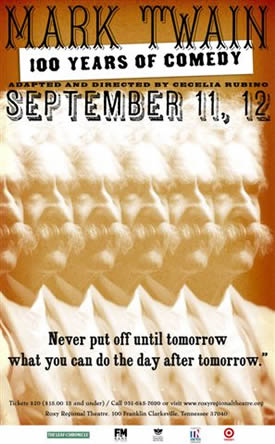 Huckleberry Finn, Tom Sawyer and many others will spring to life to share the wit and wisdom of one of America's finest authors this September 11th-12th with MARK TWAIN: 100 YEARS OF COMEDY.
A cornerstone of entertainment in historic downtown Clarksville, the Roxy Regional Theatre delivers live professional productions with skilled and experienced actors from across the United States. Be prepared to fall out of your chair laughing at the antics of Twain's cast of characters.
Ashton Crosby, Jonathan Hopkins, and Brandon Scott will portray a variety of characters from Twain's extensive anthology. During the show, select audience members will be brought on stage to join in the fun.
Performances are 8pm Friday and 2pm Saturday afternoon, there is no Saturday evening performance. Tickets are $15 for adults and $10 for kids 13 and younger. Purchase online at www.roxyregionaltheatre.org, or call (931) 645-7699 during regular box office hours (9am-2pm, weekdays).  This production is appropriate for all ages. Roxy Regional Theatre is located at 100 Franklin Street.