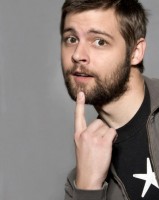 Derik Boik will be performing stand-up comedy at the Comedy Zone in Tippers Sports Bar this Tuesday evening at 9:00 p.m.
Best known for his absurd, self-deprecating and irreverent comedy. He has proudly gone from being virtually unknown to being virtually… known in just five short years. Derik grew up in Central Florida, where he was able to cultivate a less than healthy attitude towards sharks, dream catchers and old people. Derik is a master of the unexpected, and brings to the stage his childlike ability to uncover the humor in (almost) any situation. From vasectomies to nursery rhymes, Derik often exploits his own awkward life  for the sake of comedy. Easy-going, insightful and at times a little bit pompous, Derik will keep you giggling from start to finish. Oh, and you may never look at a superhero the same way again.
He graduated from Flagler College in 2004  with a bachelor's degree in theatre.  His fate was sealed when won a comedy contest at a local club, and then began performing all across the state at coffee shops, colleges and outdoor music festivals .  In 2006, Derik moved to New York and spent the next 2 years performing at many of the city's best comedy clubs, including Comix, Broadway Comedy Club, The Comic Strip, and the New York Comedy Club.  Derik was also a featured comedian in a weekly comedy showcase at the Duplex, the West Village's most famous cabaret club.