Loaves and Fishes, is a community kitchen which provides  free meals to 150-200 needy people a day, six days a week. They will be holding their annual fundraiser on October 17th, offering the community a Louisiana Cajun Dinner that includes: Cajun rice, gumbo, beans, jambalaya and breads, with pecan pralines for dessert. Tickets are priced at a $15 donation per person for the event.
They are looking for individuals and businesses to help sponsor this years event. If you, or your business can help either with a cash sponsorship, or by taking care of one or more of the items needed from the list below, you will be making a big difference! Loaves and Fishes is a 501(c3) non-profit so all donations are tax deductible.
Contact Susan Chapman via email or via phone  at 931-645-9020 to offer your assistance, or for ticketing information.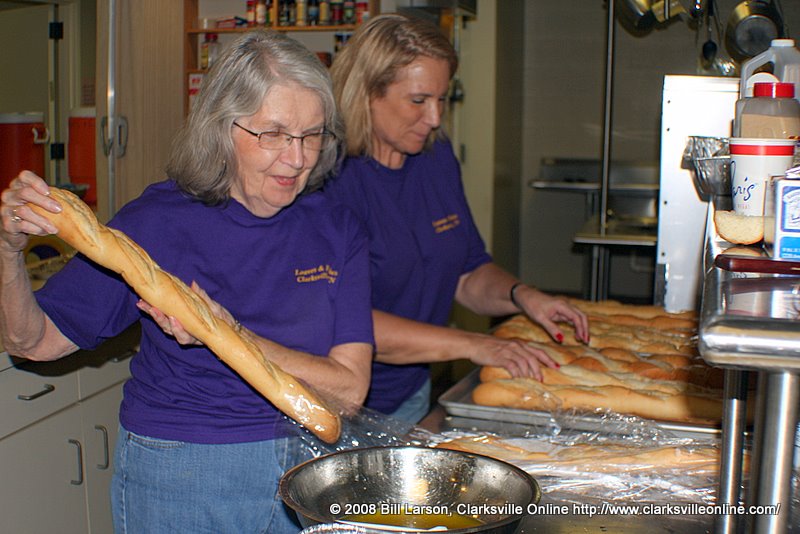 Wish list
Fruits & Vegetables

| | |
| --- | --- |
| Bell Peppers | 30 lbs |
| Celery | 30 lbs |
| Onions | 50 lbs |
| Pinto Beans | 50 lbs |
| Long grain White Rice | 8 bags of 20 lbs or 25 lbs |
| Minute Rice | 50 lbs |
| Whole Pecans | 75 lbs |

Meats

| | |
| --- | --- |
| Smoked Sausage links | 75 lbs |
| Hamburger | 25 lbs |
| Turkeys | 40 chopped (20 pots, 2 turkeys per pot) |
| Chicken Broth | |

Dairy

Dry Goods

| | |
| --- | --- |
| White Sugar | 100 lbs |
| Brown Sugar | 100 lbs |
Images from last years Louisiana Saturday Night