According to the National Education Association, research shows that the ideal number of students in a class is 13 to 17. In Tennessee, class sizes are allowed as follows (data from the Tennessee Department of Education Web site): Kindergarten through third grade: average 20; maximum 25; fourth through sixth grade: average 25; maximum 30. This may appear to be reasonable to some politicians, educators and parents. Teachers will tell you that maximum class loads reduce the one critical need of every student: individual attention.
«Read the rest of this article»
What's going on at Dunbar Cave is an occasional piece written by Park Interpreter Amy Wallace
Does anyone remember the old song about picking up paw paws, putting them in your pocket, way down yonder in the pawpaw patch? You can find the famous paw paws at Dunbar Cave right now, as well as at other places– and if you beat the possums to them, taste one – kind of like a sickly sweet very ripe banana. How do you know if one is ripe? Shake the tree (and duck) – if they fall off, they are ripe. Some people make breads and puddings from the pulp. We prefer to leave them for the possums and other creatures that need them for food. The leaves of pawpaw trees are also neat – they smell like green peppers.
«Read the rest of this article»

The weekly Clarksville Parks and Recreation Department Recreation Report provides Clarksvillians with a glimpse at the activities and events that are available from the Parks and Recreation Department for them to enjoy together as a family. This weeks highlights include:
Riverfest 2009
Clarksville Greenways
Downtown Market
Clarksville Community Centers
«Read the rest of this article»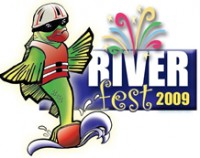 The weather on the second day of Riverfest turned out to be just as good as on the first. The full day of entertainment and wholesome family fun kicked off early with the Riverfest Regatta. The Regatta featured 26 teams racing custom made boats all crafted entirely from corrugated cardboard, Duct Tape, Silicone Sealant, Construction Adhesive, and paint.
This has to be one of the funnest events to watch during the entire festival. The shoreline was packed with people all on hand to cheer on their favorite teams.
«Read the rest of this article»