What's going on at Dunbar Cave is an occasional piece written by Park Interpreter Amy Wallace
Does anyone remember the old song about picking up paw paws, putting them in your pocket, way down yonder in the pawpaw patch? You can find the famous paw paws at Dunbar Cave right now, as well as at other places– and if you beat the possums to them, taste one – kind of like a sickly sweet very ripe banana. How do you know if one is ripe? Shake the tree (and duck) – if they fall off, they are ripe. Some people make breads and puddings from the pulp. We prefer to leave them for the possums and other creatures that need them for food. The leaves of pawpaw trees are also neat – they smell like green peppers.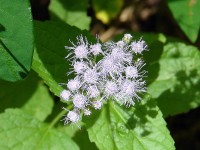 If you come to the park this month, you will also see goldenrod, boneset, mistflower, snakeroot, thistles, jewelweed, asters, lettuces (nothing to do with the garden vegetable) and other flowers. The predominant colors are yellow, white and lavender.


Some might call them weeds, but if you look closely most of these "weeds" are covered with insects, especially butterflies, getting a good meal. That is why we let our weeds grow and flower – to feed the inhabitants of the Natural Area and to provide shelter for them.
The tiny orange spotted jewelweed is my favorite flower right now – if you wonder about the name, take a look at the photo – they look like little eardrops – and if you look closely, you will also see the water droplets shining like jewels. If you hold a leaf underwater, it looks like it is covered in tinfoil. The jewelweed is also good for poison ivy (rub the mashed up leaves on the rash) – and just plain fun. It will have seedpods that look like little okras – if you touch one it will shoot seeds out three or more feet (another name for this plant is touch-me-not. And if you can catch one of the seeds and peel it – the inside is robin's-egg-blue and tastes like a peanut!
Our swallows are gone; soon we will be seeing ducks and warblers migrating through the area. The local Audubon Society will have a field trip to Dunbar on September 26 to look for those fall warblers – check out the Warioto Audubon Society website for details.