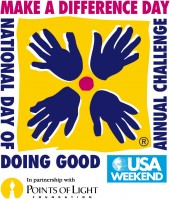 Would you like to be part of Make a Difference Day in Clarksville? Students from Kindergarten through Twelfth grade are invited to take part in a essay contest for our community.
Make A Difference Day is the most encompassing national day of helping others — a celebration of neighbors helping neighbors. Everyone can participate. Created by USA WEEKEND Magazine, Make A Difference Day is an annual event that takes place on the fourth Saturday of every October. The next event is Saturday, October 24, 2009.
Essay winners will receive prizes but everyone is encouraged to show your appreciation and love for a military spouse who has made a positive difference in your life. The topic for the Essay is "What has a military spouse done to make a difference in your life?"  You can write about any military spouse: your parents, teacher, community leader, family friend- anyone who is married to someone in the military who has made a difference in your life.
The winners and the subjects of their essays will be announced in the Center Court at Governor's Square Mall on Make a Difference Day, Oct 24.
The essay can be any length up to 500 words and you can ask for help from your parents and teachers. The deadline for entries is October 5th. There will be a category for Elementary, Middle and High school students.
The rules are available online at http://www.Mtolivecemetery.org/ or you may pick them up in Governor's Square Mall at the Customer Service desk in front of Dillards.
Be a part of Make a difference Day—Honor a Military Spouse in your essay.