Republican Candidate for 8th Congressional District of Tennessee connects with fellow veterans at non-partisan seminar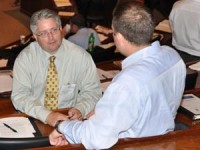 Donn Janes, a candidate for the U.S. House of Representatives in Tennessee's 8th Congressional District, recently returned from a two-day candidate seminar at Princeton University's Woodrow Wilson School of Public Affairs. The seminar was hosted by Veterans Campaign, a non-partisan, non-ideological training program aimed at preparing veterans to run for public office.
"The candidate training conference covered topics ranging from public speaking to grass roots organization," said Janes, a first-time candidate for political office. "Those of us who attended are not career politicians. The attendees and presenters were veterans who are trying to make a difference and looking for ways to continue our tradition of service to this great country by running for public office."
The Veterans Campaign is dedicated to assisting veterans in their run for public office because they believe veterans possess many qualities necessary to serve our country well in public office. According to Veterans Campaign, because of their military experience, veterans have outstanding leadership experience, are capable of succeeding in the face of adversity, intimately understand the human consequences of foreign policy decisions, and, most importantly, they have demonstrated their willingness to put America and its citizens before their own well-being.
About Donn Janes
Donn Janes, is a Navy veteran and businessman from Brighton, who served as an Electronic Warfare Technician while in the Navy until his honorable discharge in 1989. Janes is an outspoken critic of how Republicans and Democrats have both continued to ignore any calls for fiscal responsibility and continue to plunge the United States deeper into debt.