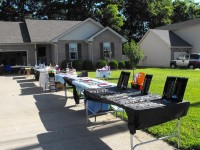 The Home Based Business Show was started back in May by a small group of Army wives. Their monthly shows features women vendors who either consult for a company, or run their own businesses.  They started out with just 5 vendors at their first shows, but now frequently have 12-14 each month. They have also expanded to include vendors who are not military affiliated. Each month a different member of the group hosts the show at their home. By having the monthly show in different neighborhoods,  vendors gain exposure to new potential customers.  Their next monthly show will be on Saturday September 26th from 10:00 a.m. till 2:00 p.m. at 1492 McKinley Ct. Clarksville,Tn 37042.
The vendors that will be on hand at this months show will be Nikkay Fashions (Handmade Jewelry), Mary Kay, Scentsy Candles, Celebrating Homes, It's Pursonal (Handmade Purses),Spanish Fly Fashions (Clothing), Gold Canyon Candles, Tastefully Simple, Pampered Chef, Arbonne, and Mermaid Kisses Bowtique (Hairbows).
The shows are held outside, but if the weather turns bad it will be moved inside. For guests  there will be food & drinks, door prizes, specials deals, and a great day of networking. The event is free and open to the public.
For more information, contact Nikke Shanabrough, at 931-217-3649 or .