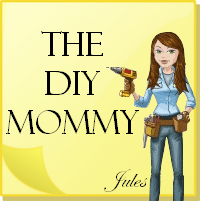 I"m a former HGTV junkie. I used to sit and watch hours of it, and I absorbed more interior decorating, real estate, and DIY than I could possibly use in a lifetime. I would probably still be that way, but my current occupations as mommy, taxi, nurse, teacher, finance manager, counselor, cook, maid, and of course, writer, do not leave much of an opportunity for television.
But if there was one thing I learned from my HGTV education, it's that preparation is key when doing any type of project. I've put this principle into practive with every job I have done and have always had great results. Whether it is painting a bookshelf or completely gutting a bathroom, you have to start out the right way.
I wish someone had told that to the handyman I hired a couple of weeks ago to paint my kitchen buffet. As the  DIY mommy, I prefer to do things myself, but for this particular project I was pressed for time and wanted it done before my husband returned from a business trip. So, I found two local "experienced" handymen who came complete with referrals to tackle the simple task of painting a hutch along with a few other small things around my house. Sounds great, right?
Not really.
The handymen arrived rather promptly, give or take 30 minutes, and I laid out all the supplies they would need: drop clothes, 220-grit sandpaper, hand sander, brushes, primer, paint, and trays. I told one of  the guys I wanted the entire hutch painted, the other started working on another job, and I was off to take Little Man to pre-school. I will admit that I am sometimes what you could call a micro-manager. That is one of the reasons why I like to do things myself. But this particular morning, I welcomed the break. Ater dropping Little Man off, I stopped to grab a quick bite, feeling confident that with two able-bodied men working at my house, my hutch was going to turn out beautifully.
When I arrived home, my hutch was black. I was shocked. While black is the color that I chose for the piece, I could not believe that he had had time to sand, prime, and paint a large piece of furniture in the time that I was gone. Pleased that he was such an efficient worker, I went to work in the garage while he helped his partner finish up another small job.
As they neared the end of their work, one of them called me into the house:
"Ma'am, what is this primer in here for?"
A little concerned, I look over to the kitchen table, and there sits a brand new can of primer, unopened, with an unused handsander right next to it. Very concerned, I tell him, "It's for the hutch, didn't you prime the hutch?"
"Um, no, you only said you wanted it painted."
I cannot express the irritation that I felt at that moment. While I did not explicitly say to "sand, wipe, prime, and paint" the hutch, any person who has ever done any type of painting should know that you have to prime first. Especially if you are painting over finished wood. Otherwise the paint will not adhere. For a handyman familiar with painting, this should have been common practice.
So now, even after almost three weeks, I cannot place anything on my buffet.  The paint is still tacky. canisters, boxes, dishes, place mats;  they all stick right to it, pulling the paint off when you pick them up. With nothing to hold it to the wood, the paint comes off at the slightest touch.  The only fix? Sand it down and start again.
Morale of the story: If you want it done right, do it yourself. If you absolutely must hire someone, explain everything. Do not assume that they have any professional knowledge. Leave a list, and if they do not complete everything on it, dock it from their pay. Otherwise you may find yourself redoing and spending your own time, and on your own dime.