Autumn months worst time for deer-related crashes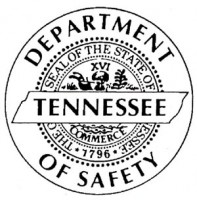 NASHVILLE – The Tennessee Department of Safety (TDOS) and the Tennessee Wildlife Resources Agency (TWRA) caution motorists to watch out for deer, especially during the months of October through December, which is deer mating season, also referred to as "the rut".  Deer are on the move during this period, meaning an increase in deer-related crashes is more likely.
"Every year hundreds of Tennessee motorists are involved in property damage crashes and some suffer injuries after striking a deer.  Deer pose a danger to drivers throughout the year, but especially in the fall," stated THP Colonel Mike Walker.  "In areas were deer are populated, it is important that drivers always slow down, pay attention and stay alert."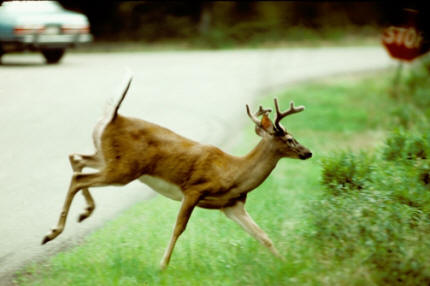 In 2008, there were 5,140 deer-related crashes, including 266 that involved injuries and one that was fatal. That was up less than one percent from 5,104 last year, but since 2004, deer-related crashes in Tennessee have risen over 12 percent.
Between 2004 and 2008, less than ten percent of deer-related crashes occurred on interstate highways, so motorists should exercise extra caution when not traveling on a major thoroughfare.  November, when deer hunting season starts, is the worst month for deer-related crashes.
"November is when the peak of the rut occurs, and is the worst month for deer-related crashes," said TWRA Information Officer Don King. "It is also prime month for deer hunting season, which is the only effective way to reduce the number of deer and help keep the population number in check."
The THP and Tennessee Wildlife Resources Agency have these tips for drivers to help prevent deer-related crashes during peak mating and hunting seasons:
Whenever you see deer cross the road, expect more to follow.  Many times, the second or third deer crossing becomes the one that motorists hit.
Be attentive, especially at daybreak and dusk, when deer tend to be on the move.
If you do collide with a deer, never approach the injured animal.  They are powerful and can cause bodily harm to a human.
Tennessee law allows deer killed in a collision to be taken and used as food, as long as you contact the nearest TWRA regional office to report the accident within 48 hours.
Statistics for deer-related crashes in Tennessee
Deer Crashes Statewide by Month, 2004 – 2008

Month

2004

2005

2006

2007

2008

5 Yr Totals

5 Yr Average

Jan

388

399

443

413

419

2,062

412

Feb

236

309

258

294

262

1,359

272

Mar

223

292

333

280

284

1,412

282

Apr

246

213

319

255

246

1,279

256

May

265

324

407

285

306

1,587

317

Jun

308

314

408

383

356

1,769

354

Jul

244

246

339

360

285

1,474

295

Aug

209

239

254

331

288

1,321

264

Sep

248

236

298

340

270

1,392

278

Oct

550

594

579

578

596

2,897

579

Nov

1,167

1,087

1,323

870

1,217

5,664

1,133

Dec

643

662

878

715

611

3,509

702

Totals

4,727

4,915

5,839

5,104

5,140

25,725

5,145

Source: TN Dept of Safety, Office of Records and Statistical Management, 22 Sep 2009.
Additional data regarding deer-related crashes can be found at http://www.state.tn.us/safety/stats/CrashData/Animal.pdf.
About the Tennessee Department of Safety
The Tennessee Department of Safety's mission is (www.TN.Gov/safety) to ensure the safety and general welfare of the public. The department encompasses the Tennessee Highway Patrol, Office of Homeland Security and Driver License Services. General areas of responsibility include law enforcement, safety education, motorist services and terrorism prevention.