We need the public's assistance to locate a subject who has a CRIMINAL ATTEMPT TO COMMIT MURDER warrant. His name is: JAMES KEITH TOLER (W/M, DOB: 1/16/72, Given Address: 1097 McDaniel Rd, Clarksville, TN) AKA "Gypsy". He is approximately 5'10", 175 lbs, Brown Hair, Hazel Eyes.
On October 12, 2009, around 1 a.m. , officers arrived in the area of 1348 Ft Campbell Blvd and found a 29 year old male laying on the ground. He had been stabbed in the abdomen area. James Keith Toler was identified as the subject that stabbed the male. The victim said that Toler was an acquaintance and he did not know why Toler stabbed him. The victim was transported by Lifeflight to Vanderbilt due to the serious nature of the stab wound. The victim is now in stable condition.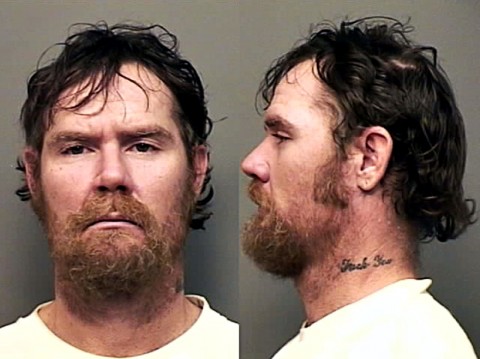 Please call 911 if you see or know the location of James Keith toler . The lead investigator is Detective Andy Hurst, 931-648-0656, ext 1007 or the TIPSLINE, 931-845-8477.
Argument results in reckless endangerment x 2 and possession of firearm while intoxicated.
DAVID MICHAEL SEAMAN (W/M, DOB: 4/15/86, Given Address: 414 Montrose Drive, Clarksville, TN) was charged with: TWO COUNTS OF RECKLESS ENDANGERMENT AND POSSESSION OF A FIREARM WHILE INTOXICATED and has a Bond of: $6,000.
On October 12, 2009, around 4:30 a.m., officers responded to 2051 Ft Campbell Blvd in reference to an ASSAULT IN PROGRESS. When officers arrived, they saw DAVID SEAMAN holding a handgun. He told officers he pulled out a handgun after three men threatened to kill him.
Officer Ewing started an investigation and found out all parties involved in the altercation had been drinking.
SEAMAN and a friend had gotten into a verbal argument with three other males. The nature of the argument never came to light. After several minutes of arguing, SEAMAN went to his vehicle retrieved and brandished a 9mm handgun. Two of the males, 23 and 26 years old, continued to argue with SEAMAN. SEAMAN then fired a handgun round into the ground near the two males. Even after a round had been fired, the arguing continued until officers arrived on scene.
Ewing's investigation further revealed there had been some threats and shoving which took place, but SEAMAN was the only person who displayed a handgun. Additionally, SEAMAN is a Gun Carry permit holder.
DAVID MICHAEL SEAMAN was taken into custody and booked into the Montgomery County Jail.
Child Rapist indicted and booked
On October 12, 2009, STEVEN ALEXANDER BANCROFT (W/M, DOB: 12/22/83, Given Address: 2709 Trenton Rd, Clarksville, TN) was booked into the Montgomery County Jail on THREE COUNTS OF CHILD RAPE with a Bond of $100,000.
He was indicted by the Grand Jury on charges which stemmed from incidents which occurred between July and August 2009. A mother had reported to Police that her child, under the age of five, did not want to go the babysitter anymore. The child alleged that Bancroft had urinated on her, used a toy to touch her private area, and also took her panties off. The babysitter was STEVEN ALEXANDER BANCROFT. The results of Detective Ginger Fleischer's investigation was presented to the Grand Jury and an indictment was handed down.