Make a Difference Day is October 24th.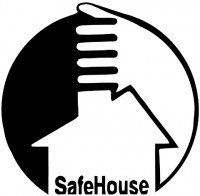 We all want to help make a difference in the lives of others, but it is hard to give up a whole day of work to volunteer your time on a big project. If you are looking for a way to help others and do something that really matters, or a way to teach your children how it feels to help someone in need, here is something that you will want to take part in! Drive by Donations for The Montgomery County Safehouse, which serves women and children forced from their homes by domestic violence, by providing them emergency shelter and other services.
The Safehouse has an urgent need for personal hygiene items for the women and children, some of their greatest needs are toothpaste and toothbrushes, combs and soap, shampoo, deodorant; and anything for babies, especially diapers and baby wipes. Wash cloths and towels would be very welcome. Sheets and Blankets are always put to use. They can use any kind of cleaning supplies from floor cleaner to dish washing soap.
Cheryl Lyle, the services coordinator for the Safehouse would like to thank the community at large for the support they give year after year. "Public support helps the shelter concentrate on it's mission of protecting the victims of domestic violence."
«Read the rest of this article»

Water will be disrupted weather permitting on Thursday, October 15th, 2009 between 9:00 am and 3:00 pm on Craigmont Blvd. while Gas and Water construction workers perform maintenance on a 6-inch water line. Water will also be disrupted on Georgetown Rd. from Craigmont Blvd to the end of Georgetown Rd.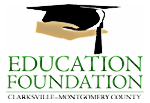 Please join the Clarksville-Montgomery County Schools Education Foundation for the 5th Annual Vision to Reality Banquet and Auction on November 7th at 6:00 pm at the Clarksville Country Club. This event serves as the local Education Foundation's major fundraiser to support programs such as; Great Idea-Teacher Grants, AVID scholarships, Kindergarten –Kits, Academic Awards, and the new STEM Initiative for the purpose of increasing student achievement. Tickets are $50 per person. Please visit the Foundation's website to learn more about foundation programs and to purchase your tickets for this event! You may also purchase tickets at CMCSS Central office on 621 Gracey Avenue.  Businesses can also sponsor tables if desired. For more infromation contact Candy Johnson at or  by telephone at 931-920-7955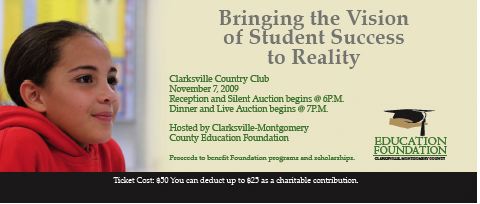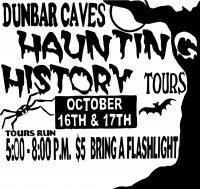 The annual Haunting History Tours of Dunbar Cave will take place this Friday and Saturday from 5:00 to 8:00 PM each evening. See funny and educational skits performed inside the cave by actors from the Roxy Regional Theatre School of the Arts. While it is very exciting to be inside a cave, especially at night and around Halloween, the skits are not scary and are for all ages.
The cost is $5 per person. All funds raised go to the Friends of Dunbar Cave for use in protecting, promoting, and preserving the Dunbar Cave State Natural Area. The price includes the cave tour and hot chocolate or hot cider. Parking is free. You can park in the Dunbar Cave parking lot, or if that is full park at the Swan Lake Golf Course and walk to the visitor's center. Tours leave the visitor's center every 15 minutes. No reservations are required. Each person needs a flashlight – bring your own or rent one at the event. Each person must be able to walk on their own, including children, unfortunately the cave cannot be made handicapped accessible.
«Read the rest of this article»