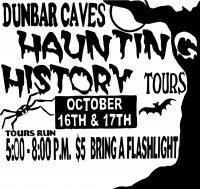 The annual Haunting History Tours of Dunbar Cave will take place this Friday and Saturday from 5:00 to 8:00 PM each evening. See funny and educational skits performed inside the cave by actors from the Roxy Regional Theatre School of the Arts. While it is very exciting to be inside a cave, especially at night and around Halloween, the skits are not scary and are for all ages.
The cost is $5 per person. All funds raised go to the Friends of Dunbar Cave for use in protecting, promoting, and preserving the Dunbar Cave State Natural Area. The price includes the cave tour and hot chocolate or hot cider. Parking is free. You can park in the Dunbar Cave parking lot, or if that is full park at the Swan Lake Golf Course and walk to the visitor's center. Tours leave the visitor's center every 15 minutes. No reservations are required. Each person needs a flashlight – bring your own or rent one at the event. Each person must be able to walk on their own, including children, unfortunately the cave cannot be made handicapped accessible.
The three skits performed in the cave Haunting Facts, Haunting Memories and Haunting Questions.
Haunting Facts is a fast and fun look at the bats that live in Dunbar Cave and other caves.
Haunting Memories is about people sharing their memories of Big Band music and Country music and experiences living around the cave.
Haunting Questions asks about the Native Americans who made the ancient pictographs inside Dunbar Cave. Who were they and what does their art mean?
If you would like to become a member of the Friends of Dunbar Cave, you can signup while at the event!
The Friends of Dunbar Cave would like to thank The City of Clarksville, and Golf Pro Jeff Vaughn for allowing the Friends of Dunbar Cave to use the Parking lot at Swan Lake for overflow parking for the Tours.